UPCOMING EVENTS
Help your Air Ambulance save lives, brains and limbs by joining us at one of our upcoming events below:
Skydive for Air Ambulance NI
If jumping out of an aircraft at over 15,000ft is on your bucket list then here's your chance to test your nerve with a tandem skydive.  It might sound extreme – and it is – but it's also exhilarating, confidence-building and a massive achievement!
Freefall at 120mph before the parachute is deployed and gently descend for a soft touchdown in front of friends and family.
Celebrate a special birthday, remember a loved one on an anniversary or mark it off on your bucket list, the date is up to you.  
Register today and pay £99 to secure your slot (non-refundable) and we will be in touch with a word of welcome, digital fundraising pack and support you with your fundraising every step of the way.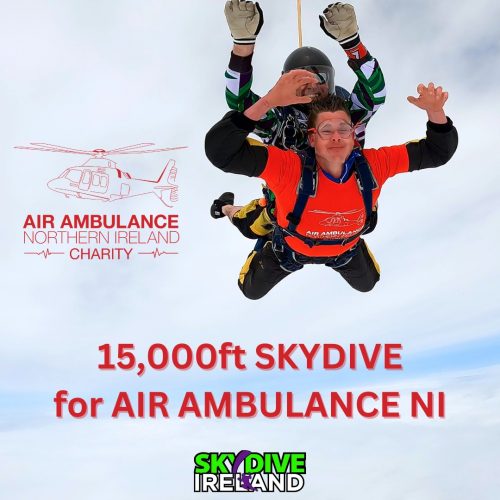 Santa Abseil
Date:  Sunday 10th December 2023
Our Santa Abseil at the iconic Belfast Castle is back with a Ho Ho Ho! Don your festive knits for another fun filled day, abseiling 100ft down the castle tower, overlooking the beautiful views of Belfast City.
Registration is £40, and we hope you will be able to raise a suggested minimum donation of £100 through sponsorship from friends, family and your workplace. The vital funds you raise with help deliver urgent, pre-hospital care to people who are critically ill or injured across Northern Ireland. You can set up a JustGiving to take online donations by clicking here.
If you would like more information on the Abseil, please call us on 028 9262 2677 or email info@airambulanceni.org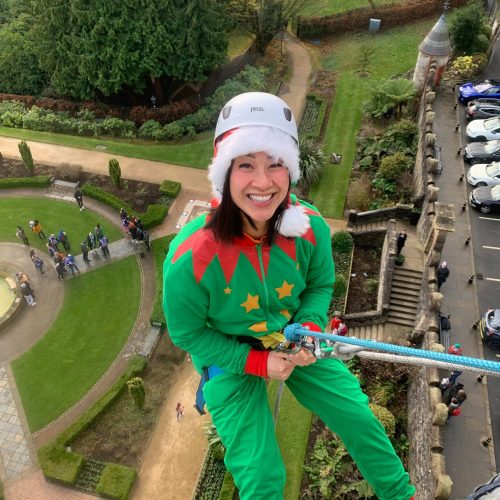 MASH DIRECT BELFAST CITY MARATHON & HALF MARATHON
Air Ambulance NI is the dedicated charity for the Mash Direct Belfast City Marathon 2023-2025.  This year, we are encouraging everyone to take part in the run, relay or 8 mile walk and raise funds for the Helicopter Emergency Medical Service.  'You Run, We Fly'!
The Mash Direct Belfast City Marathon, wheelchair race, relay run, and 8 mile walk take place on Sunday 30th April. The half marathon is on Sunday 17th September.
Sign up in the usual way https://belfastcitymarathon.com/ and when registering you'll be asked if you'd like to fundraise for Air Ambulance NI.  Please tick this box and it means we will receive your details to send you your fundraising pack.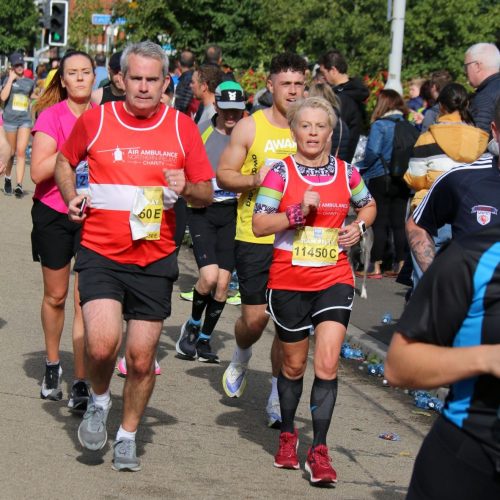 Miles for Missions
This Spring & Summer, we are asking if you can go the distance for Air Ambulance NI! Choose to walk, run, cycle or swim 30 miles, 50 miles, 75 miles or 100 miles in one month, to help raise funds for the next critical mission.
On average, the HEMS team are tasked TWICE per day. It's not only the medical crew who save lives, but the people who support the service.
Starting your mission is simple:
Choose your activity (Walk, Run, Cycle or Swim)
Choose which month to complete your challenge in (May, June, July or August)
Choose the distance you will go (30, 50, 75 or 100 miles)
Let us know by registering today and receive your digital fundraising pack!
Taking part is completely free, we only ask each person to try and raise a minimum of £100. Each day, Air Ambulance NI needs to raise £6,850 to keep the medical team in the air. Whether you complete 1 mile or 3 miles a day, the money you raise will fund the next mission, helping to save lives, brains and limbs.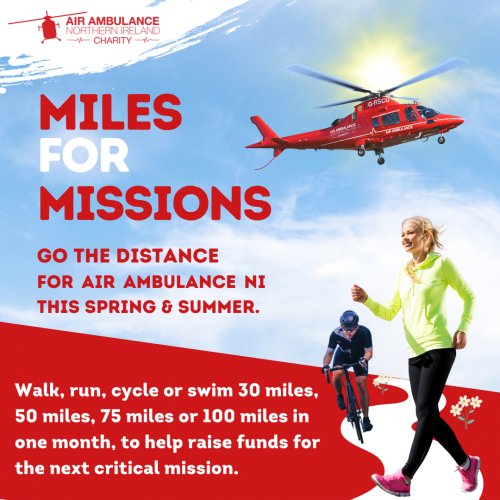 Date: Anytime
'Go off' something that will benefit you and Air Ambulance NI! Whether you choose to go off alcohol, sweet treats, fizzy drinks, take-aways, meat, dairy or swear words, to name a few – by donating a little and asking your family, friends and loved ones to sponsor your efforts, you'll help Air Ambulance lift off for another day!
You can choose your own length of time for this challenge, you could go off something for 2 weeks, a month or even longer. By asking your friends, family and work colleagues to sponsor your efforts, you'll be helping to save lives, brains and limbs.
Register below for your free fundraising pack and set up a JustGiving page to take donations online by clicking here.