Wedding Favours
AANI provides charity wedding favours for your guests as a meaningful way to say thank you.  The cards are a donation of £1 and if you would like a pin badge for each guest this is an additional £1.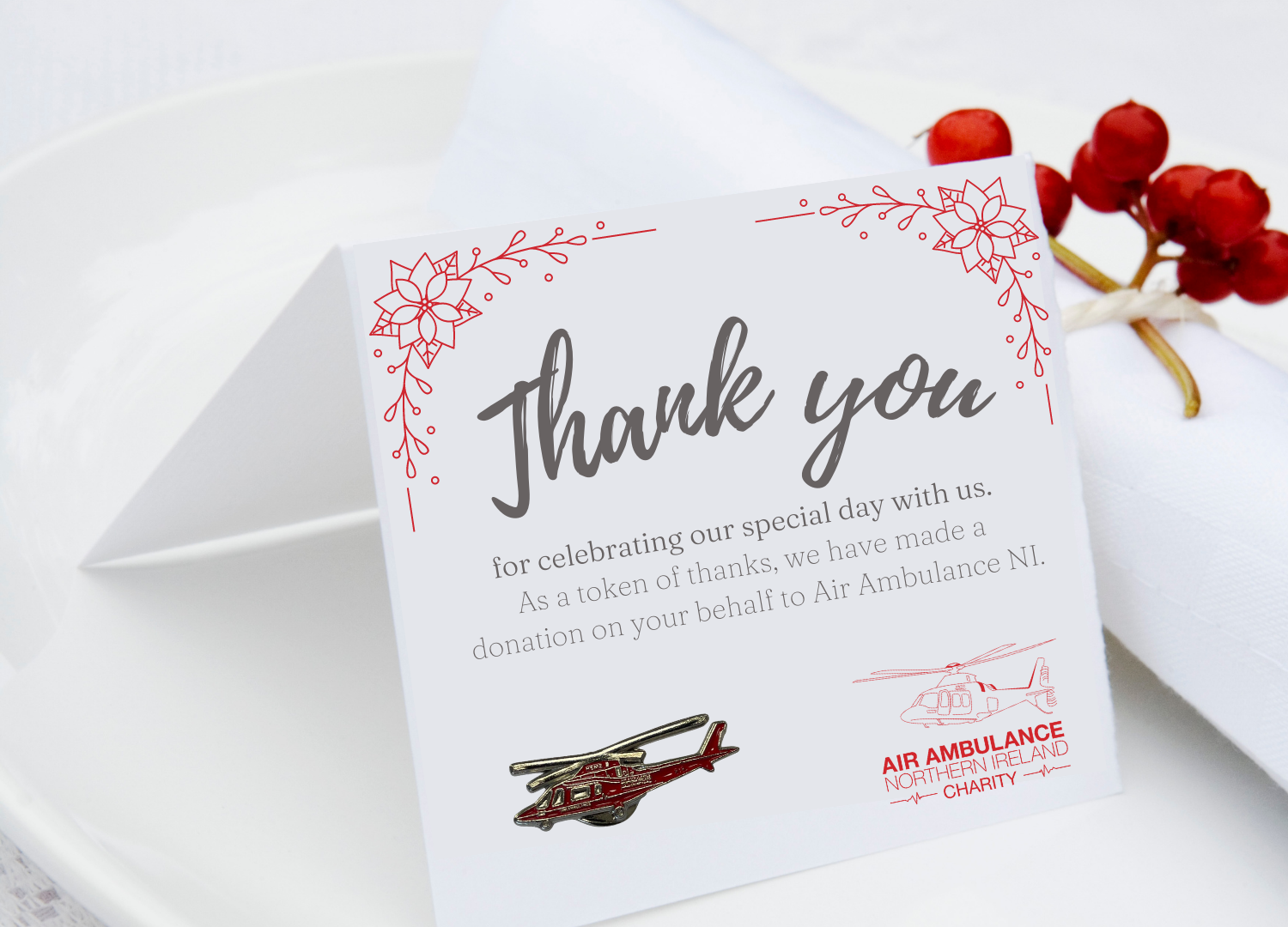 Club AANI
Become a member
Join Club AANI for just £2 a week and become a vital part of our journey.
Monthly donations allow us to predict regular income levels to keep our helicopter flying. By joining, you will not only show your commitment to saving lives; you will also be part of the journey in creating sustainability for this critical lifesaving service. Most members donate through direct debit; or you can also opt to buy annual membership in one payment if you would prefer.
Donate in lieu of flowers
Thank you for considering to support AANI at this difficult time, we truly appreciate it. Donations in lieu of flowers is a wonderful way to honour the memory of your loved one, and help keep Air Ambulance NI flying.
Contact us if you would like more information. Fundraising ideas & tips
At work
BAKE SALE
Challenge your co-workers to a bake off and raise money whilst indulging your sweet tooth.
SWEEPSTAKE
It could be on a sporting event or outcome of your favourite TV series!
5K A DAY CHALLENGE
look after your physical health while raising money for charity.  Run, walk or use the stairs in this challenge for charity- we can provide you with sponsor forms to help your fundraising target
GO RED
Ditch the tie, decorate your uniform or go head-to-toe red and host a Go RED fun day at the office for Air Ambulance NI.
At home
HOLD A CAR BOOT SALE
In exchange for a donation, rehome all your unwanted items, from books to lamps, and raise money at the same time.
COME DINE WITH ME
Invite your friends and family over for a night in and ask them to donate what they would have spent on a night out.
GIVE IT UP
Be it chocolate, make-up or even talking for the day, challenging yourself to go without and getting sponsored for it is a great way to raise money.
CAR WASH
Get out those buckets and sponges and wash your neighbours' cars for a donation.
AFTERNOON TEA
Invite your friends over for a fun afternoon of sweet treats, games and fun. We'll provide you with balloons, leaflets and a collection bucket.
In your local community
QUIZ NIGHT
Ask a local venue if you can hold a quiz night, pubs are a good option. There are lots of free, ready to use quizzes available online and they're a popular evening out.
BUCKET COLLECTIONS
A collection at a local shopping centre is one of the easiest ways to get donations – all you need is a bucket and a smile! You'll enjoy the generosity of the public and have fun with your fellow collectors.
JUMBLE SALE
Reuse and recycle – from handbags to DVDs, everyone loves a bargain. You could sell homemade cakes and tea as well and hold a lucky dip.
BAG PACK – Ask your local supermarket if you and your friends can come along and pack customers' bags at each checkout. It's a brilliant way to raise lots of money and awareness for the charity.
Keeping it safe and legal
Take some time to consider any risks that your activity might present, and also any regulations you should abide by. Our quick guide highlights some of the areas you'll need to consider. But don't rely solely on these tips; it's best to check with your local council to check you've got everything covered.
Planning and organising an event
We are delighted that you want to raise money for Air Ambulance NI.  Please be assured that we will do our best to provide you with as much support as you need every step of the way so that your efforts will be as successful, rewarding and memorable as they can be.