Welcome to Helimed Ed., the educational resource created for primary schools based around the region's only helicopter emergency medical service, Air Ambulance NI.
In partnership with Calvert, Helimed Ed. aims to inspire and raise awareness amongst children around Air Ambulance NI through a range of Literacy, Numeracy, World Around Us and PDMU activities. We hope that the resource, containing over 50 ready-made activities across Foundation Stage, Key Stage 1 and Key Stage 2, will supplement what the children are already learning in the classroom in areas such as language, literacy, numeracy and hopefully it may even inspire some to become a pilot, doctor, paramedic, engineer, charity worker or even a future volunteer in the future!
We also hope the resource will create important conversations around how to stay safe and what any of us should do in an emergency situation.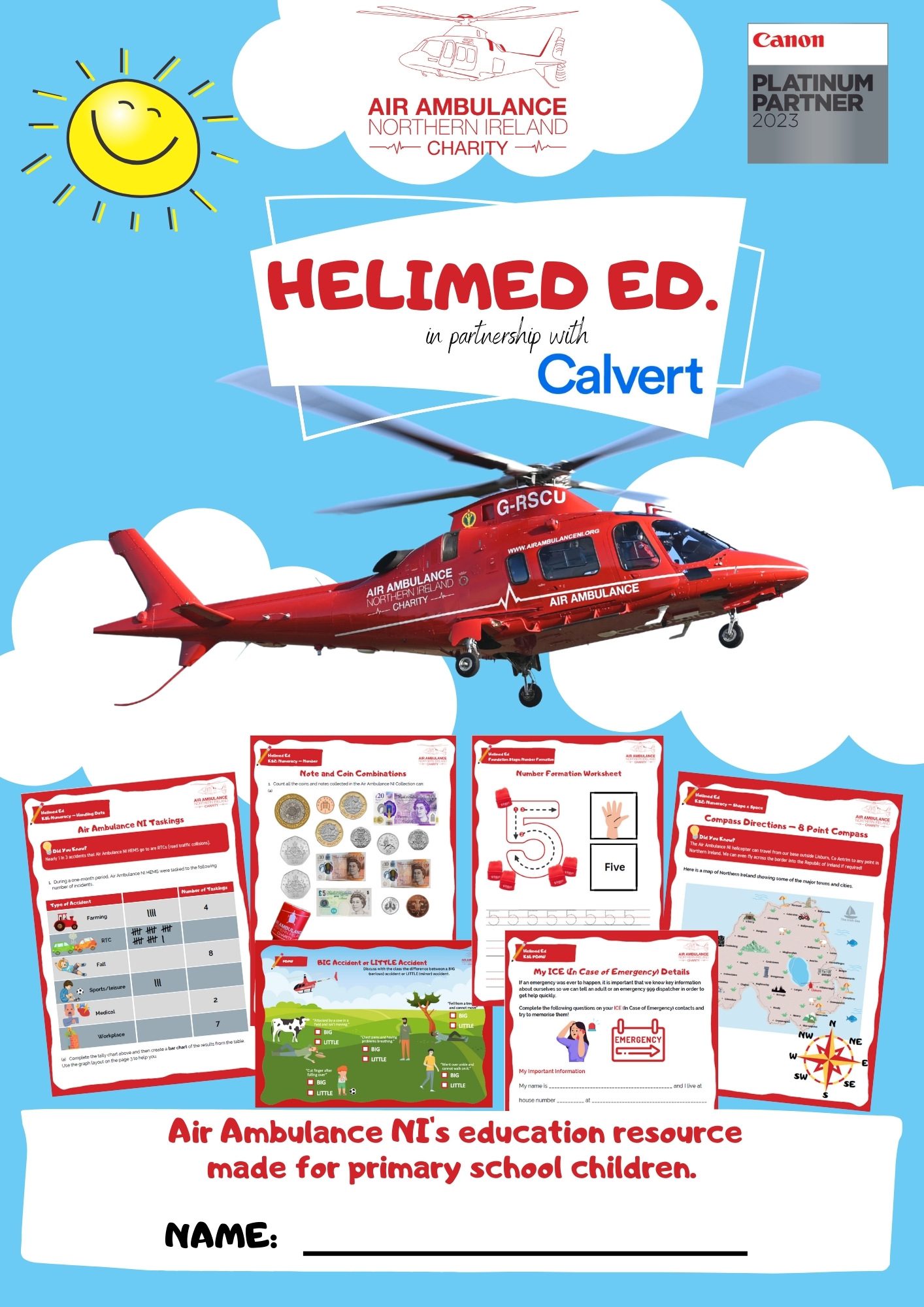 Register Your Interest
To register your primary school's interest in Helimed Ed., please complete the form below and we will send out one physical school copy of Helimed Ed. via post. We will then give you access to the entire resource of activities via a separate weblink where you can view, download and print individual activities as you please.
IMPORTANT: Registration for Helimed Ed. should only be carried out by a full-time member of staff AND with the consent of the principal or vice-principal of the primary school prior to completing this form.
Cost
Helimed Ed. is a FREE resource to all primary schools but we would ask if your class or school could support Air Ambulance NI Charity in a fundraiser at some point throughout the year. Some ideas include;
Non-uniform day
Christmas jumper day
A Valentine's 'Red' themed day
Sponsored silence
Splash your teacher/ principal event
Daily mile/ 5k walk or fun run challenge
Cake and bun sale
Christmas Carol Service/ school play donations
Or let your own School Council choose a fundraising idea!
Air Ambulance NI relies on everyone's support to keep the medical team flying, saving lives, brains and limbs across the region. With a fundraising need of £6,850 per day, any support your school could offer the charity will make a difference.
Thank you for your support.