On the afternoon of the 25th November 2019, Dungannon farmer John Gray was in his field tending to his beef cattle when he collapsed. John's brother Billy was nearby, saw his brother in the field but was unsure what had happened.  John was unresponsive and not breathing so Billy phoned 999 and the Helicopter Emergency Medical Service (HEMS) team were dispatched immediately to the scene.
Due to low-lying fog conditions that Monday afternoon, the team travelled to the farm on the outskirts of Dungannon, Co Tyrone in their rapid response vehicle (RRV), rather than EC135 helicopter.  The highly skilled HEMS team can deliver the same level of expertise, equipment and care by RRV.
From the moment Billy phoned for emergency services until the time the Air Ambulance NI team arrived via RRV approximately twenty minutes later, Billy administered CPR to John, guided by the 999-emergency dispatcher who was on the phone.  This undoubtedly helped saved John's life.
The HEMS doctor and paramedic team treated John, administering emergency drugs, restarting his heart with a defibrillator and then putting John into a medically induced coma in the field, taking over full control of his breathing via a ventilator and preventing any damage to his brain.  John was brought to the Royal Victoria Hospital, Belfast, accompanied by the HEMS team where he spent the next 19 days in hospital.
Waking up two days later, John had no recollection of the event and didn't realise he had suffered a cardiac arrest. John had never showed signs of heart trouble before and always watched what he ate and drank whilst maintaining a good regime of fitness from farm work.  Soon after his cardiac arrest, John was fitted with five stents after doctors discovered three major blocked arteries around his heart.
Ten months after his life-changing experience, John and his wife Joan visited the Air Ambulance NI base outside Lisburn, gaining an insight to the charity-based emergency service.  John said, "My wife Joan and I really enjoyed our visit which gave us an insight into the medical procedures the Air Ambulance team are capable of. Their expertise, the excellent treatment given to me in the Royal Victoria Hospital and my brother performing CPR all were necessary for my survival."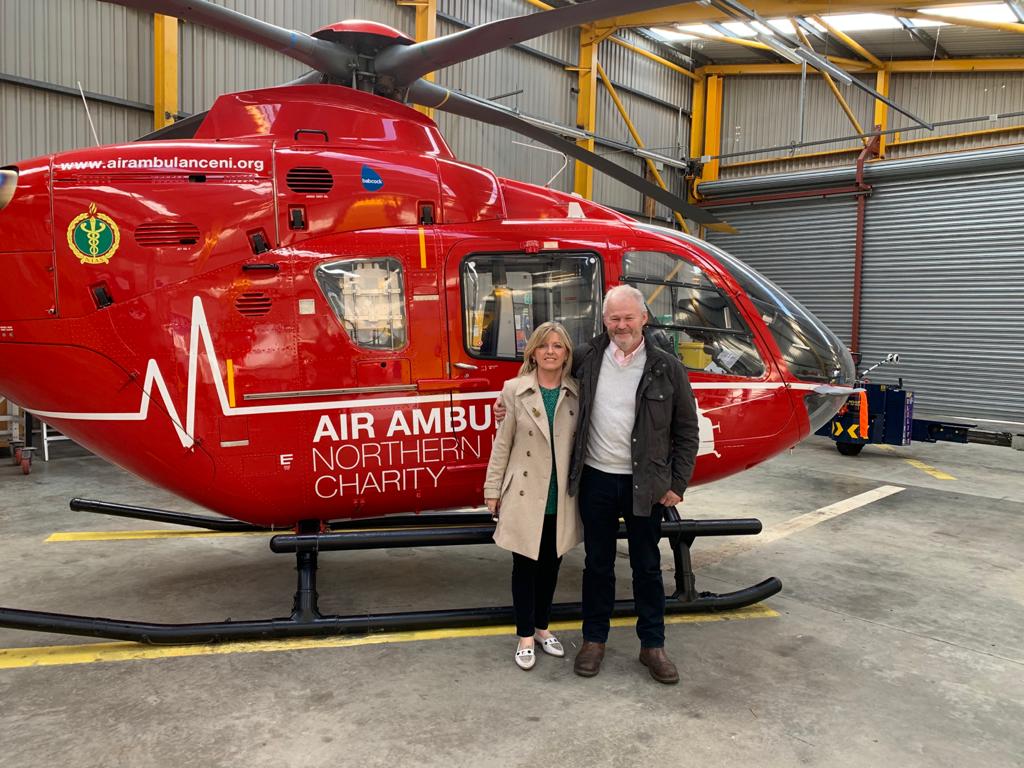 Damien McAnespie, Area Fundraising Manager for the Air Ambulance NI Charity, said, "It was lovely to have John and his wife Joan visit our base last September. Patients are at the very centre of our service and although our team are out on average twice a day, we never know any of the patient's details, so it is lovely when they reach out. We appreciate John sharing his own experience with us and are delighted that he has made a full recovery."
The HEMS for Northern Ireland is provided through a partnership between charity Air Ambulance NI and the Northern Ireland Ambulance Service.  The service brings urgent medical assistance to anywhere in the province, operating seven days a week for 12 hours per day. It can get to anywhere in Northern Ireland in approximately twenty-five minutes.
Air Ambulance NI aspires to raise £2million each year to maintain this service so public donations are crucial.  Click here to find ways you can support.
Concluding John said, "We are extremely lucky to have this service and I am just one of many who simply would not be here without them. No one goes out in the morning thinking they might need their services yet on average everyday someone does! I would greatly encourage everyone to support this very worthy charity."