You might find it interesting to know that in NI 80% of adults have not yet made a Will.  Are you one of them?   
Perhaps you feel that making or updating your Will is a daunting prospect, expensive, or something you can put off until you are older. You may be wondering where to start, how long the process takes, and how much it is going to cost.  All these questions can be exhausting and if you aren't sure where to begin, it's easy to just park the idea and forget about it.  The good news is it doesn't need to be expensive or daunting.  To suit individual preferences, we have developed a couple of ways for you to make your Will with legal expertise: 
Organise Your Will with a local Solicitor 

 
Throughout March / April and October / November 2021, you can have your Will made or amended with one of the local solicitors working with Air Ambulance NI.  Each of these solicitors has waived their fee and instead request clients to donate to Air Ambulance NI in lieu of payment. A great incentive for getting your affairs in order and benefiting the charity at the same time.  Click here for more information and a list of participating solicitors.  Suggested donation is £100 for a basic Will and £150 for a pair of Wills. 
Write your Will online

 
We've teamed up with the online platform 'Bequeathed' to offer a free online will writing service – a great way of writing a solicitor-checked Will from the comfort of your own home. Simply go to https://www.bequeathed.org/willtogive to start.  A basic Will can be drafted in as little as 60 minutes and the step by step process makes it easy to complete.   
A gift in your Will costs nothing in your lifetime and means we can continue to save lives in the future. 
Whichever method you choose to make or amend your Will, you don't have to include Air Ambulance NI as a beneficiary; though we hope that you will consider us, once you've provided for your loved ones.  In doing so you could potentially reduce the amount of inheritance tax paid by your family and will most certainly help sustain the service for future generations. 
Type of Gifts in Wills 
After you've taken care of your loved ones, a residuary or pecuniary gift is the best way to support Air Ambulance NI.  
A pecuniary gift is a fixed amount, set by you.

 

A residuary gift is a percentage of whatever is left over after all your other gifts have been distributed. You can leave any percentage of your residuary estate to charity, up to 100%.

 
You don't have to tell us if you plan on leaving us a gift, but we are enormously grateful for anyone who chooses to leave us a gift, so we'd love to say thank you and show you how your gift might be used. 
Impact of Gifts in Wills 
Gifts in Wills help pay for our aircraft, fuel, flight suits, insurance and a range of many other costs.   
They ensure that when a critical emergency occurs, our crew can be ready to get to the patient in the fastest possible time, in effect bringing A&E to the scene, and enabling us to treat and stabilise patients before transporting them to the right hospital for their needs. Whenever someone is critically ill or injured, we can give them the best possible chance of survival – thanks to your support. 
Gifts in Wills ultimately save lives.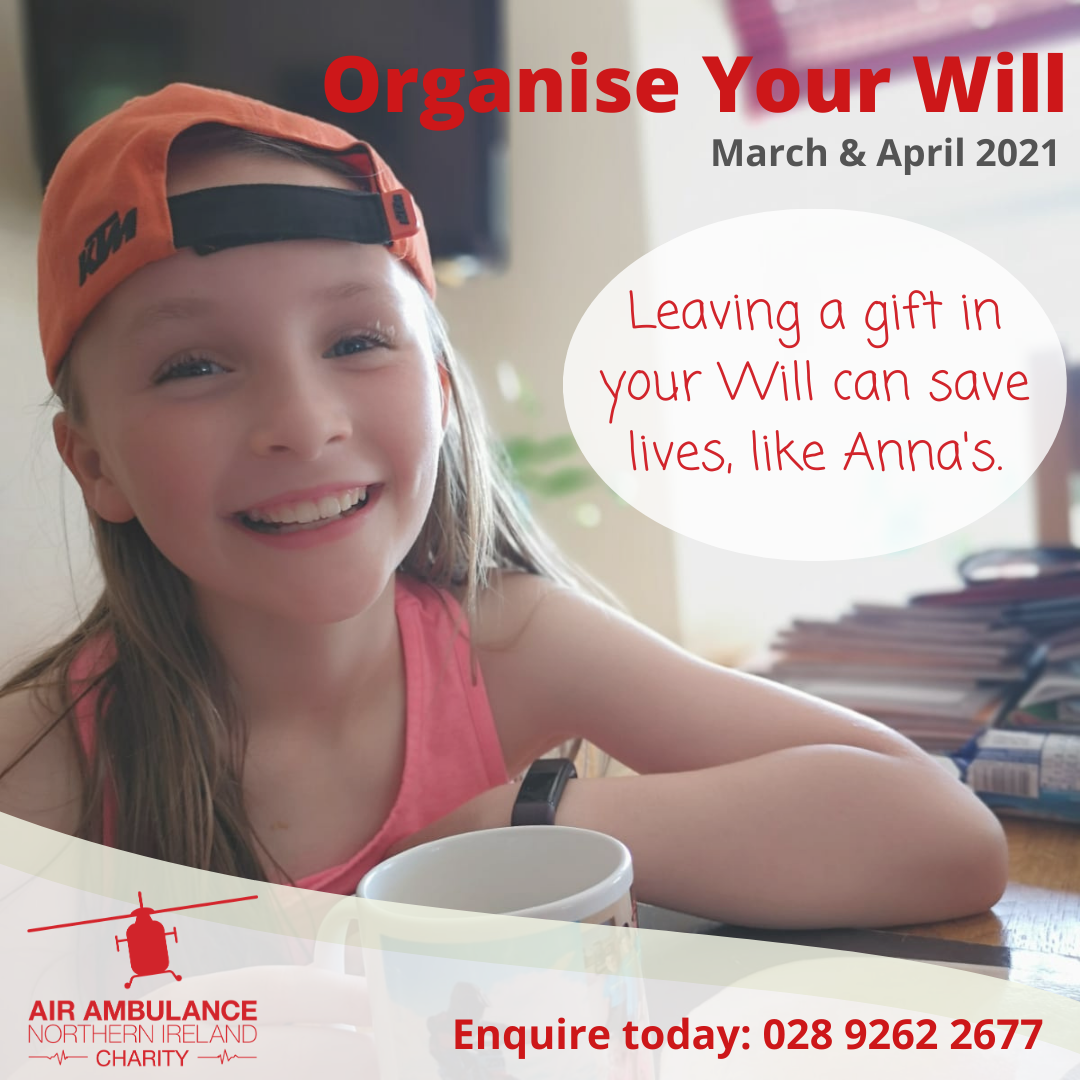 Thanks to Tanya 
We were so touched to receive a £10,000 gift from the sale of contents from the late Tanya Hazley's family. Tanya, from Portadown worked as a Northern Ireland Ambulance Service Paramedic and fully appreciated the impact of the air ambulance service. Following a brave battle with cancer, she tragically passed away on the 8th June 2020 aged 44. Tanya was beloved daughter of Sidney and the late Vronwyn. 
Gifts in Wills Myths Buster!
"I don't need a Will." 
If you die without a Will your assets will be distributed by a law which was made many years ago, which doesn't always work the way people want it to. This is especially the case when people are not married but live together, have second families, or want to give some of their money or assets to charity. By writing a Will, you can help protect your loved ones and set out your wishes about who you want to benefit. 
"Once I've written a Will I don't need to update it." 
While you may have written a Will in the past, it won't necessarily reflect your wishes today. Births, deaths and changing assets can all change who you wish to benefit from your Will. 
"I can write my Will myself, I don't need a solicitor." 
It is always recommended that you seek professional legal advice to make sure that your Will follows all the formalities required and it is completely clear what you want to happen to your estate after you die.  
"I already support Air Ambulance NI, why is it important to leave a gift in my Will?" 
Including a gift in your Will means we can plan for the future and sustain the service. For other air ambulance charities in England, Scotland and Wales, gifts in Wills make up around 15% of income.  We hope that in future years, the Air Ambulance NI service will also inspire this level of support. It will allow us to sustain and develop the highest standards of pre-hospital patient care.  
"I don't have anything to leave." 
A lot of people think they don't have anything to give, or that you have to be wealthy to leave a gift in your Will. But that's not true. Whatever size, in the long-term your gift will help us save lives, brains and limbs. 
"I need to provide for my family, I haven't got enough money to include Air Ambulance NI as well." 
It is essential that you provide for your family and friends first and foremost. Once you have done so, you could make a huge difference to the lives of critically ill and injured patients in the future by including a gift to Air Ambulance NI in your Will, no matter how small.
Want to find out more
Feel free to give us a call on 028 9262 2677