On Wednesday 1st April 2020, 40-year-old William Graham was involved in a life-threatening accident when he was crushed by a dump truck at his home in Annalong, Co Down. William had been doing some maintenance around his home. A fault with the dumper lead William to being under the machine resulting in the accident. He suffered extensive abdominal injuries including a ruptured intestine and traumatic pancreatitis.
William was trapped under the dumper for an extended period, with the machine pinning him to the ground and he lost consciousness. The dumper unfortunately drove over William but somehow he regained consciousness and his children Joshua and Chloe heard his calls for help and raised the alarm. His wife Emma found William in a distressed state and immediately called 999 and the air ambulance was tasked to the scene.
William said, "I could feel myself fading and had said goodbye to Emma believing I wasn't going to make it, my last memory after that is hearing the helicopter and help arrive".
The Helicopter Emergency Medical Service (HEMS) team arrived at William's home within 12 minutes to carry out vital pre-hospital medical interventions. William had significant, life-threatening injuries and required the team to perform an induced coma.
The father of four young children was then transported by helicopter to the Royal Victoria Hospital (RVH) where he stayed in intensive care for 7 weeks, due to the extent of his injuries he was intubated for 5 weeks. He spent a further 5 weeks in the surgical ward of the RVH. It was a particularly difficult period in hospital as visitors were not allowed due to covid-19 restrictions.
William commented: "One of the people who saved my life that day was my consultant. As I recovered, I got to see him regularly. I eventually asked him what he thought of my condition when I first arrived, and he said at the time he believed I only had a five percent chance of surviving and that without the intervention of the air ambulance I most likely wouldn't have survived."
Now, almost two years on, William is back to work as an estate agent and welcomed his fifth child, a daughter in July 2021 and he is delighted he is here for his family.  He is still on the road to recovery with ongoing hospital visits, however, is delighted to be back driving, working, and looking after his young son, Joshua and 4 young daughters, Chloe, Sophie, Hannah and new addition to the family Grace.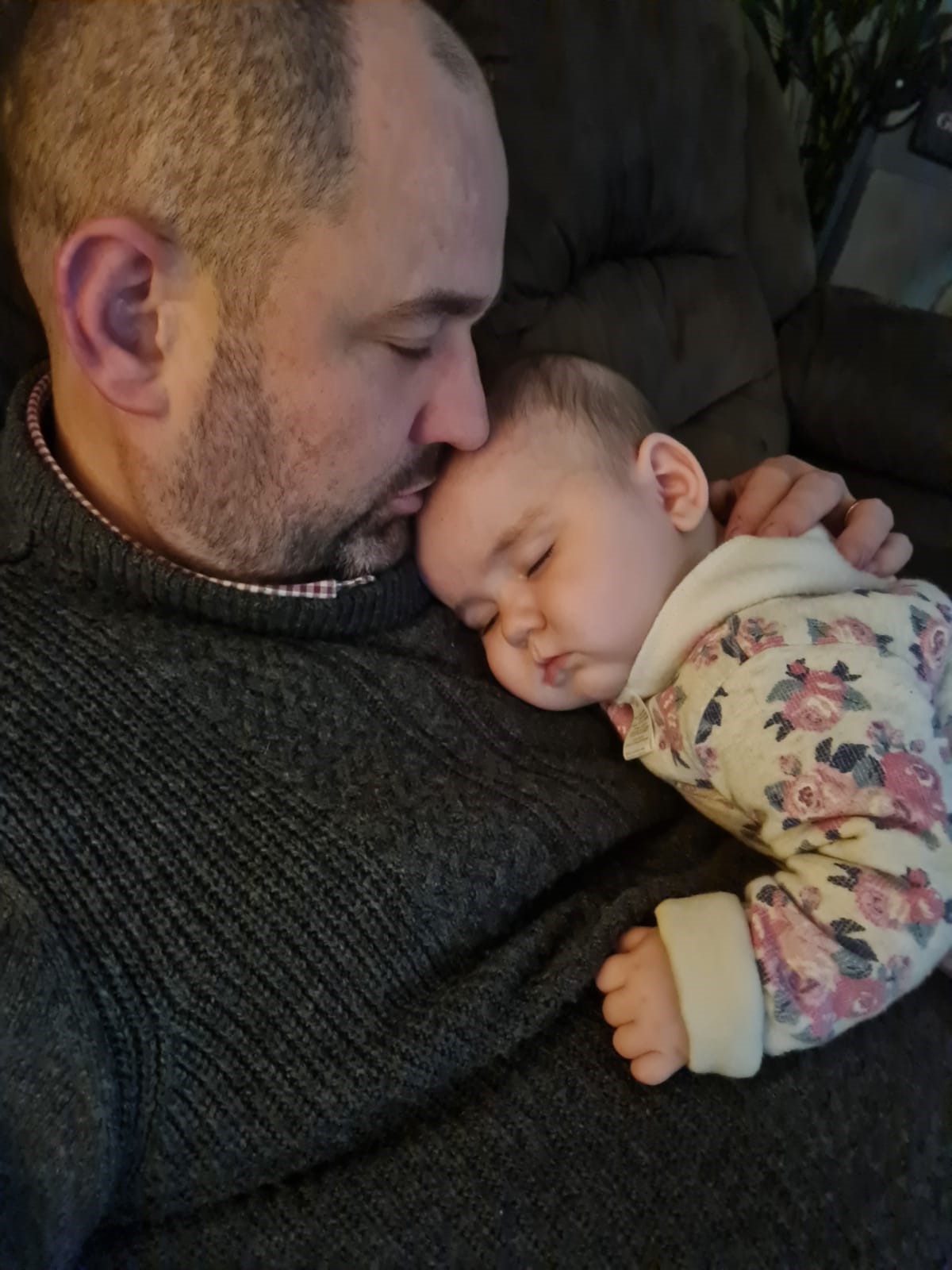 William added: "I owe my life to the service of the Air Ambulance NI and the staff at the RVH and will be eternally grateful. So much of what they do is funded by public donations which undoubtedly has saved countless lives. It really is a most worthy of causes"
Glenn O'Rorke, Operational Lead for The HEMS said, "Patients are at the centre of everything we do, and we cherish being able to meet patients and their families when they choose to get in touch. It is incredible to see William recovering so well. William experienced such a freak accident, that no-one could have predicted. When an incident like this occurs, every minute matters. The extent of William's injuries where severe and his survival depended on getting him the critical care he needed, quickly. Thankfully, his family acted fast and called the emergency services immediately, if they hadn't William's outcome could have been very different."