Three friends from Augher, Co Tyrone, alongside their families and the entire community, have raised £19,380 for Air Ambulance NI after they took part in this year's Spar Omagh Half Marathon to raise vital funds for the charity.
Rory O'Connor, Ryan Donnelly and Ciaran Shevlin all ran the half-marathon event in March in support of Rory's father Mickey O'Connor after he required the air ambulance. In October 2021, Mickey sustained serious injuries following a farm machinery accident at home in which the Helicopter Emergency Medical Service (HEMS) were tasked to. Mickey sustained serious pelvis, groin and arm injuries in the incident, resulting in him being airlifted to the Royal Victoria Hospital, Belfast where he underwent emergency surgery and spent nine days in hospital.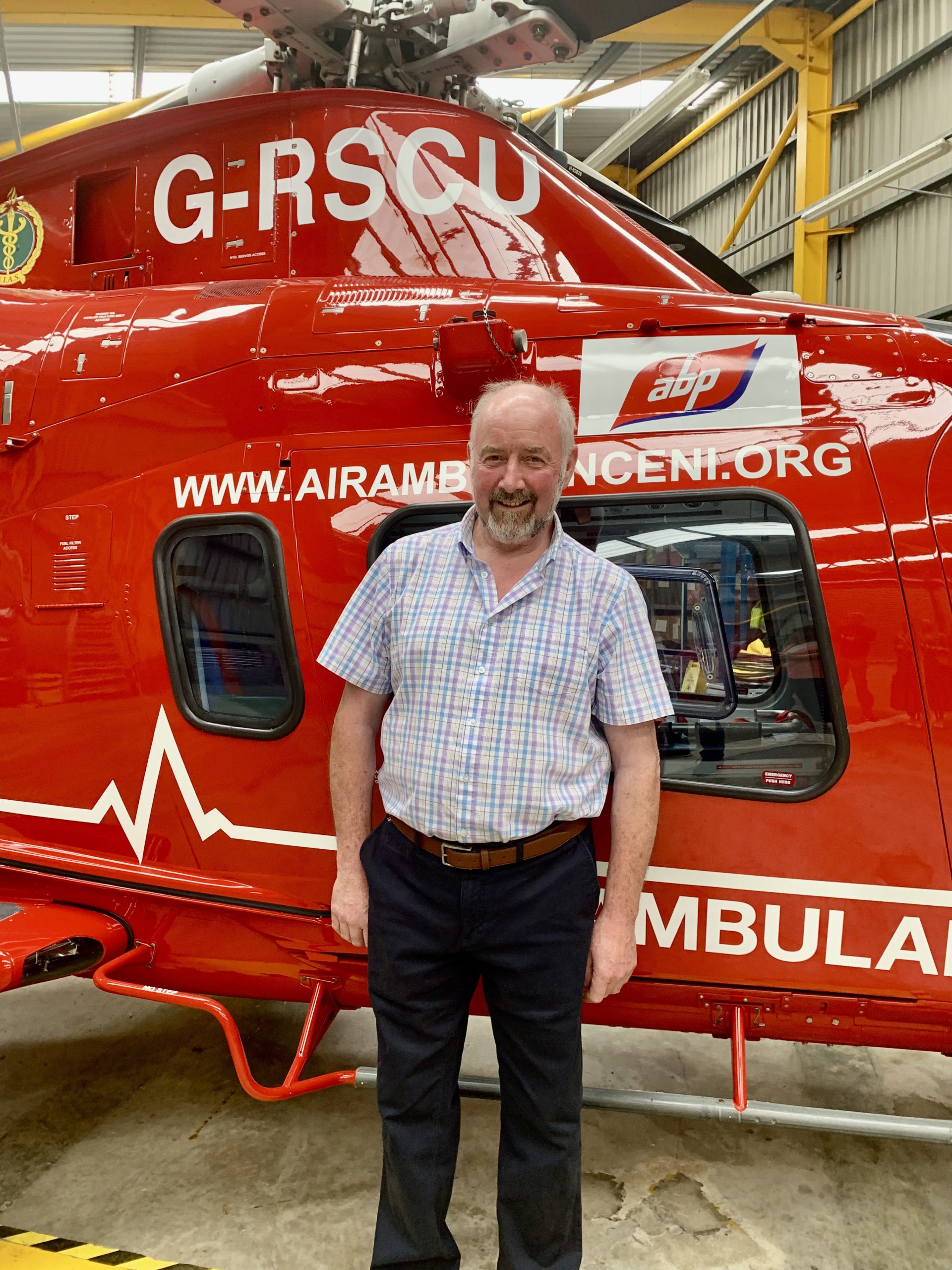 Following Mickey's accident, his son Rory decided to do a fundraiser for Air Ambulance NI charity and thought that the Spar Omagh Half Marathon would be the ideal event. Speaking about the idea, Rory said; "It was around Christmas time when my wife Christine suggested the idea and got me registered. I wasn't too keen at first as I was new to running but I joined up to Knockmany Running Club in January along with Ciaran and Ryan and around two weeks later I asked them to do the fundraiser along with me and they happily agreed.
It was not all plain sailing though, as we picked up an odd injury along the way, but with the help and support of the Knockmany Running Club coach Conor McCarroll, club members and our families we were able to make it over the line and raise a phenomenal amount of money. I just really want to thank all those who supported us in many ways. The build up to the Half Marathon was really one to remember with so many people calling and wishing us well. Then on the day itself the support was out of this world. I do believe we had someone we knew at every mile cheering us on which really kept us going. It was a great feeling to cross the finish line and to know that we had raised so much for this exceptional charity."
Mickey added, "It was a great day down in Omagh supporting the three men and was even better to see them crossing the line in one piece. They had put a lot of time and effort into their training so on behalf of the O'Connor family I want to thank them for that. We are delighted with the amount raised and are so thankful for everyone's efforts in this fundraiser. Finally, I would like to thank the HEMS team that came to me that day and got me the treatment that I needed. We are so happy to be able to donate this money today so that this service can continue to help others."
Damien McAnespie, Air Ambulance NI Fundraising Manager, said, "This is an incredible donation to Air Ambulance NI. Rory, Ciaran and Ryan really have stepped outside of their comfort zone and done something incredible, raising thousands of pounds and funding the service for nearly three days. It was lovely to see Mickey doing so well after his accident and to have Rory, Ciaran and Ryan and their families visit the base and for them to find out more about the service. We can't thank them all enough for their support."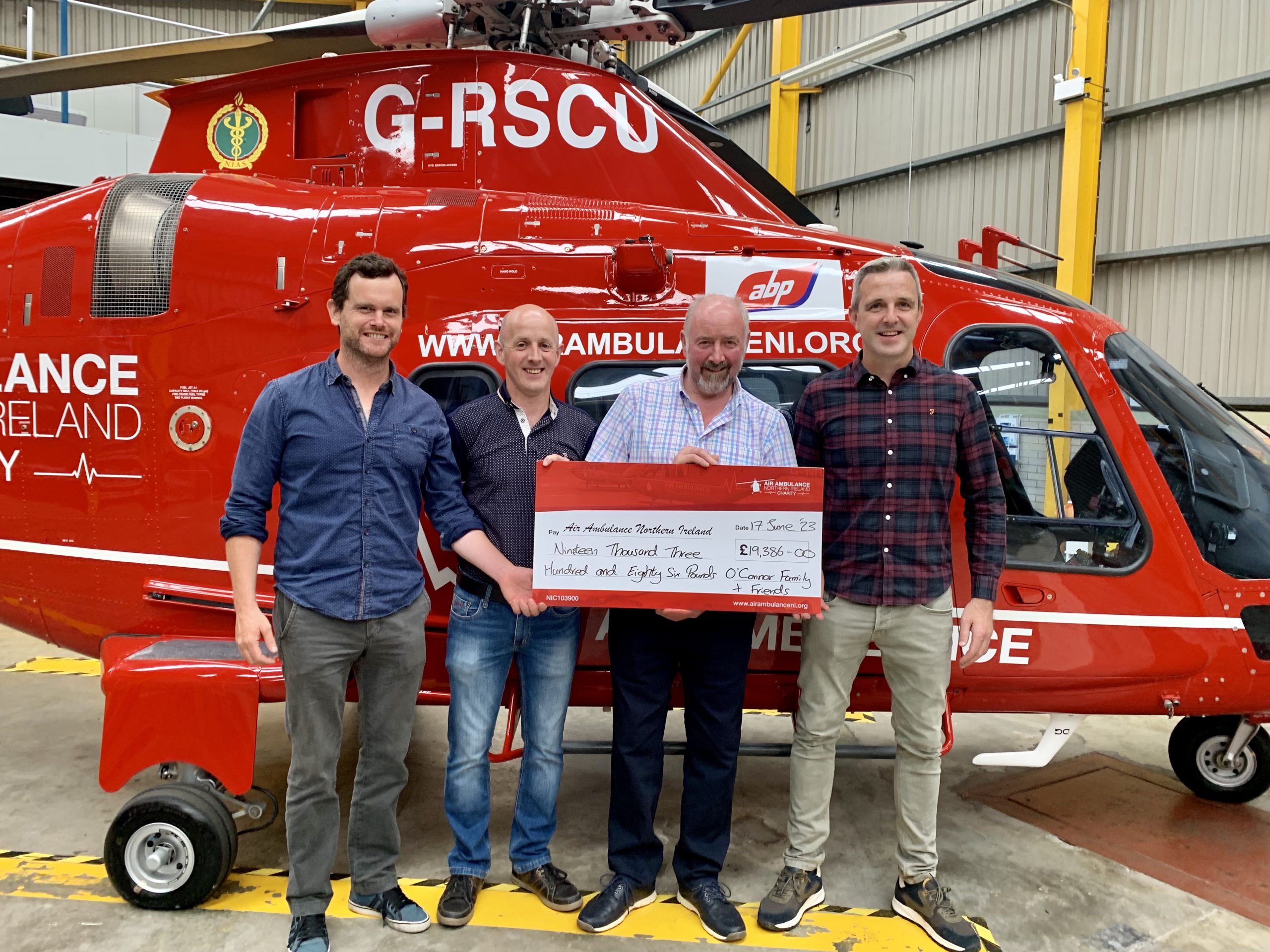 Air Ambulance NI is a local charity that provides the Helicopter Emergency Medical Service (HEMS) in partnership with Northern Ireland Ambulance Service. The service brings urgent medical assistance to anywhere in the province, operating seven days a week for 12 hours per day. The HEMS team attend patients who are seriously ill or injured, bringing emergency pre-hospital care direct to the casualty with the aim of saving lives, brains and limbs. The aircraft can reach anywhere in Northern Ireland in approximately twenty-five minutes.
On average the medical team are called upon twice every day, whether that is as a result of a serious road traffic collision, farm or workplace accident, sport and leisure incident or a serious medical emergency. As a local charity, Air Ambulance NI aspires to raise £2.5million each year, or £6850 each day, to maintain and sustain this service so public donations are crucial.