Translink staff in depots and offices across Northern Ireland have been hosting Time for Tea events to help raise funds for their charity partner, Air Ambulance NI.
The series of events comes as Translink marks a significant milestone in its fundraising efforts for Air Ambulance NI's life-saving service which relies on regular donations to keep its operation going. Now in its second year of the partnership, Translink staff and passengers have helped raise an impressive £30,000, which directly helps Air Ambulance NI provide vital services every day, helping reach those in urgent need quickly and often giving hospital-grade care at the site of incidents.
Commenting on the fundraising initiative, Jacqui Kennedy, Chief People and Corporate Services Officer at Translink said: "We pride ourselves in helping keep everyone better connected through our services, but we're also proud to help connect with charities like Air Ambulance NI through fund-raising events like Time for Tea which support the life-saving work they do each day. Our staff are always so willing to get involved in initiatives like this and I'm looking forward to even more events in the future."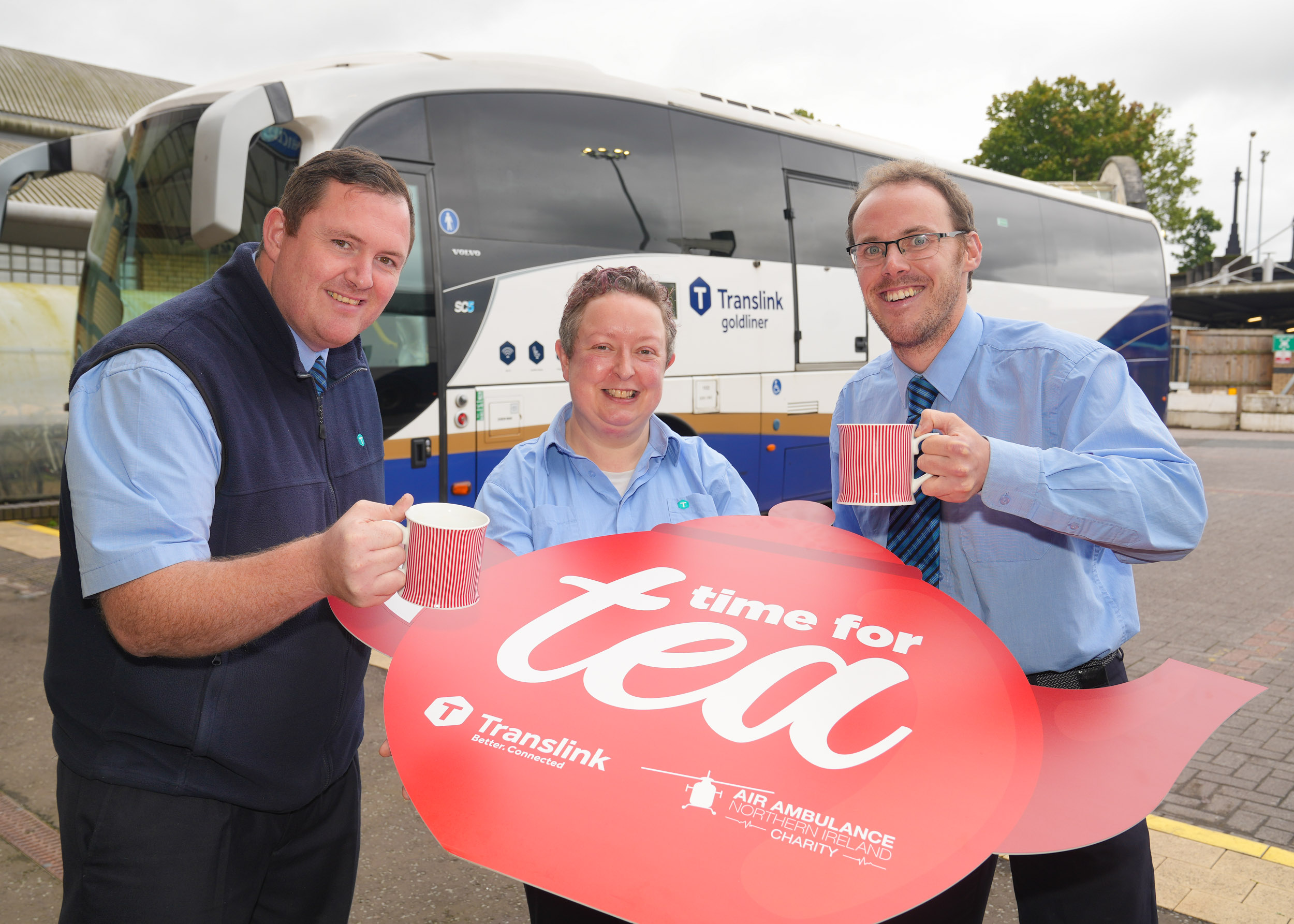 Pictured L-R: Making Time for Tea are Translink staff Sean Johnston Lucy Smyth and Philip Stewart.
Colleen Milligan, Business Development and Project Manager at Air Ambulance NI, added:
"This is another fantastic idea from Translink staff who have been great supporters through a wide range of fund-raising initiatives during our time as charity partner. We're delighted with the results these events bring in terms of helping keep our life-saving teams in operation, ready to help those in urgent need and we're extremely grateful for their support."
Translink Time for Tea follows a successful in-station music campaign hosted by Translink called Tune in June which saw musical performances take place across the month from local choirs, solo singers, pianists and Northern Ireland's network of local ukulele groups.
Air Ambulance Northern Ireland, in partnership with the Northern Ireland Ambulance Service, provides the Helicopter Emergency Medical Service (HEMS) for Northern Ireland. The service brings urgent medical assistance to anywhere in the province in approximately twenty-five minutes. To donate to Air Ambulance NI and support Translink's Time for Tea events, visit www.justgiving.com/fundraising/translink-aani