27 Tesco stores across the province turned red for the weekend to help raise over £20,000 for Air Ambulance Northern Ireland with donations still coming in.
Air Ambulance Northern Ireland is a registered charity working in partnership with the Northern Ireland Ambulance Services and provides the Helicopter Emergency Medical Service (HEMS) for Northern Ireland.
The HEMS team brings emergency pre-hospital care to seriously ill or injured patients to save lives, brains, and limbs. Operating seven days a week, this life-saving service brings urgent medical assistance to anywhere in the nation, within twenty-five minutes.
Local Community Champion Emma McKean initiated the fundraising idea following a visit to the Air Ambulance base where she was able to see firsthand the impact the charity has throughout the nation.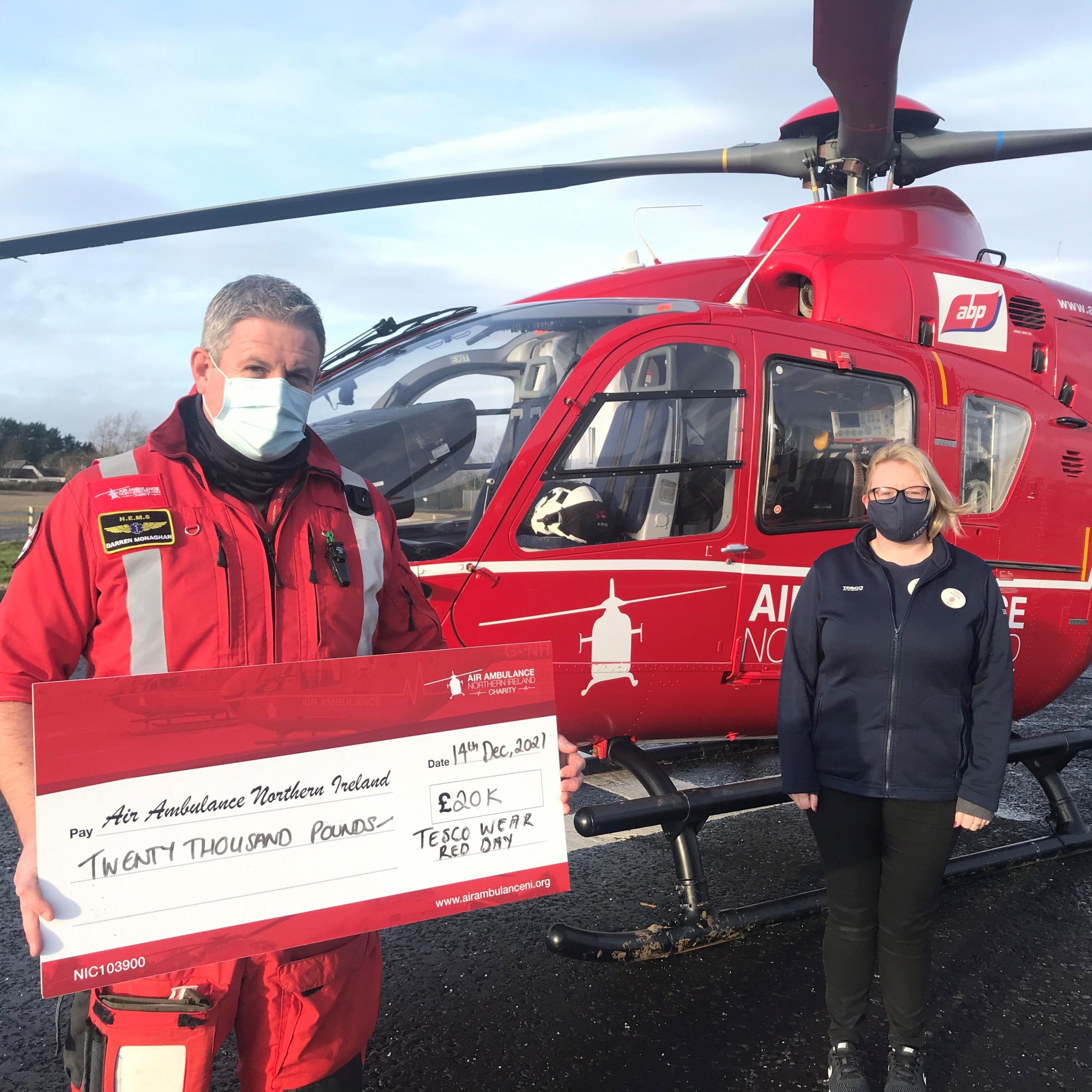 Emma arranged for Tesco stores across Northern Ireland to turn red for the weekend to raise vital funds for the charity, in line with Covid-19 guidelines. Tesco colleagues, along with 36 Air Ambulance NI volunteers, joined forces to raise a staggering total of over £20,000 with donations still coming in.
15 staff at the Coleraine store added to the fundraising effort by taking part in Belfast City Marathon contributing £3,000 to the total, whilst another store created a model helicopter which raised over £1,000 alone.
Colleen Milligan, Area Fundraising Manager for Air Ambulance NI, said "It's wonderful that so many of the Tesco stores took the lead in their very own 'Go Red' day. £5,500 is needed in fundraising to keep the air ambulance service operating each day. Fundraisers of all sizes contribute to this and as Tesco says, every little helps and this is amazing!"
"This considerable contribution will help many future patients, giving hope, and saving lives, brains, and limbs. It was also a lovely opportunity to involve Air Ambulance NI volunteers as covid restrictions were easing. We'd like to say a massive thank you to the Tesco store champions, Tesco staff teams, our volunteers, and all of the customers who donated."
The charity relies on funds to provide its vital services and Tesco has previously supported their efforts through bag packs, donated vouchers as well as a grant from the Community Grand Scheme, which uses the money raised from the levy on carrier bags to fund projects across the UK.
Tesco has also supported Air Ambulance NI in the lead up to the International North West 200, Ireland's largest outdoor sporting event, by instore fundraising.
Emma McKean, Tesco's Community Champion for the Portstewart store, added: "It's inspiring to see the dedication of Air Ambulance NI to help those in need. Many lives throughout the country have been saved due to the work that they do. It was great to be able to give back to the charity and raise money for such a great cause."
"Tesco is committed to helping those in need and we are so proud of the various charity work we do throughout our stores. This shows first-hand what we can do when we come together. It was incredible to see everyone get stuck in and do their bit. The weekend was a great success and a real team effort."