Air Ambulance NI (AANI) today announces the launch of its 'Agribusiness Group' who will actively promote the work of the charity and encourage support within the Agri sector.
Speaking on behalf of the group, Barclay Bell, a trustee of AANI and the person behind gathering the group together spoke of his reasons for establishing the network, "The air ambulance service relies  heavily on charity funding, aspiring to raise £2 million a year to sustain and develop pre-hospital critical care.  This life-saving service is already a major benefit to farmers and rural communities.  In isolated rural areas it can be difficult for medical services to reach, treat and transport people. The air ambulance helps tackle that and aims to save lives, brains and limbs.  Fundraising has been hit hard with the health pandemic, yet we know there is a strong supporter base and willingness to help in rural communities. We hope the agribusiness group will help harness that for the charity."
Mr Bell who is a farmer on a mixed farm in Rathfriland, Co Down, is a past President of the Ulster Farmers Union (UFU) and actively involved with several other farming organisations.  During his tenure as UFU president he helped raise £200,000 for the Air Ambulance NI charity and said, "Our agricultural sector has really embraced the work of air ambulance and this group are bringing their skills, experience and passion for their community to help Northern Ireland maintain its only air ambulance service."
The group is made up of eight other members:  Aurelie Moralis of Castlewellan, Co Down who is a qualified vet now working in the animal health pharmaceutical industry, Martyn Blair from Finvoy, Co Antrim, a full-time farmer with qualifications in agricultural economics and marketing, Oonagh Chesney of Portglenone, Co Antrim, Company Secretary of Fane Valley Co-Op Society Ltd and all group subsidiary companies and is currently serving her second term on the Board of the Livestock and Meat Commission.  The group also includes James Speers, a farmer and past president of the Young Farmers Clubs of Ulster from Markethill, Co Armagh, Jennifer Hawkes of Omagh, Co Tyrone, a fourth-generation pedigree dairy farmer and the current Chair of the Ulster Farmers' Union rural affairs committee and a member of the Trustees Board of Rural Support.  In addition to this, on board is Raymond Bready originally of Rathfriland, Co Down, now living in Donaghadee, a Key Accounts Manager for John Thompson and Sons and commentator for equestrian events across Europe, Libby Clarke of Magheralin, Co Armagh who is a cattle breeder, cattle judge and runs her own estate agency and Caroline Doyle, Agricultural Business Manager for Barclays Bank.
The Helicopter Emergency Medical Service (HEMS) for Northern Ireland is delivered by a partnership between the charity Air Ambulance Northern Ireland and the Northern Ireland Ambulance Service. It's a service that responds to critically ill and injured patients on average twice a day and can be the difference between life and death.
Glenn O'Rorke, Operational Lead for the HEMS said, "Our very first call out was to a farming incident and farming and agricultural incidents account for up to 11% of call outs.  This includes accidents involving farm machinery, slurry or cattle.  Unfortunately, on average, there is a farming call every week with no decrease through the pandemic. It is never lost on us that behind every call out is a patient, their family and local community.  We are really touched that the rural and agricultural communities are continuing to support and thank everyone involved in the newly established agribusiness group".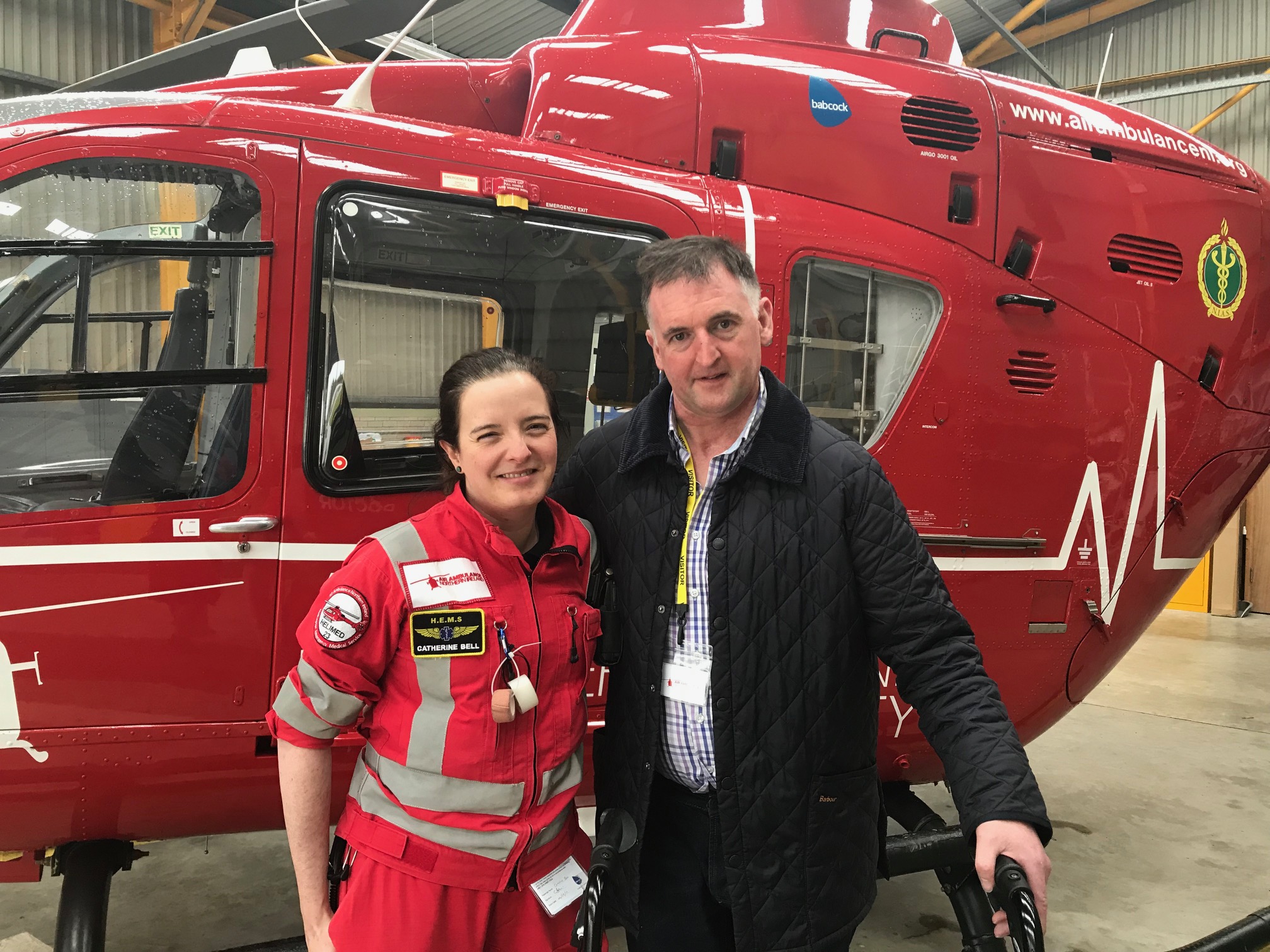 George Haslett, Claudy farmer who was treated by the Air Ambulance NI HEMS team and is one patient that has inspired the charity's agribusiness group who will raise funds and awareness.