Saturday 25th August 2018 was like any other Saturday for 15-year-old Logan Whiteside, playing football in Victoria Park, East Belfast with his team, Ballysillan Swifts, while his dad watched. That was until a football tackle left him in desperate need of Air Ambulance Northern Ireland. 
Logan had suffered a traumatic leg injury and was in an immense amount of pain, as he waited for care. The Helicopter Emergency Medical Service (HEMS) team were called to the scene, arriving by air ambulance. 
The duty crew consisting of a HEMS Doctor and HEMS Paramedic assessed Logan's injury and administered advanced pain relief, then he was transferred by road ambulance, to Royal Victoria Hospital, Belfast. 
Logan had suffered a compound right tibial fracture and due to the severity of his injury, he had a long road to recovery. He spent a week in hospital during which he had an ilizarov frame fitted to his leg which was in place for 8 months. Logan then had months of physiotherapy at Musgrave Park Hospital, which really helped his leg heal.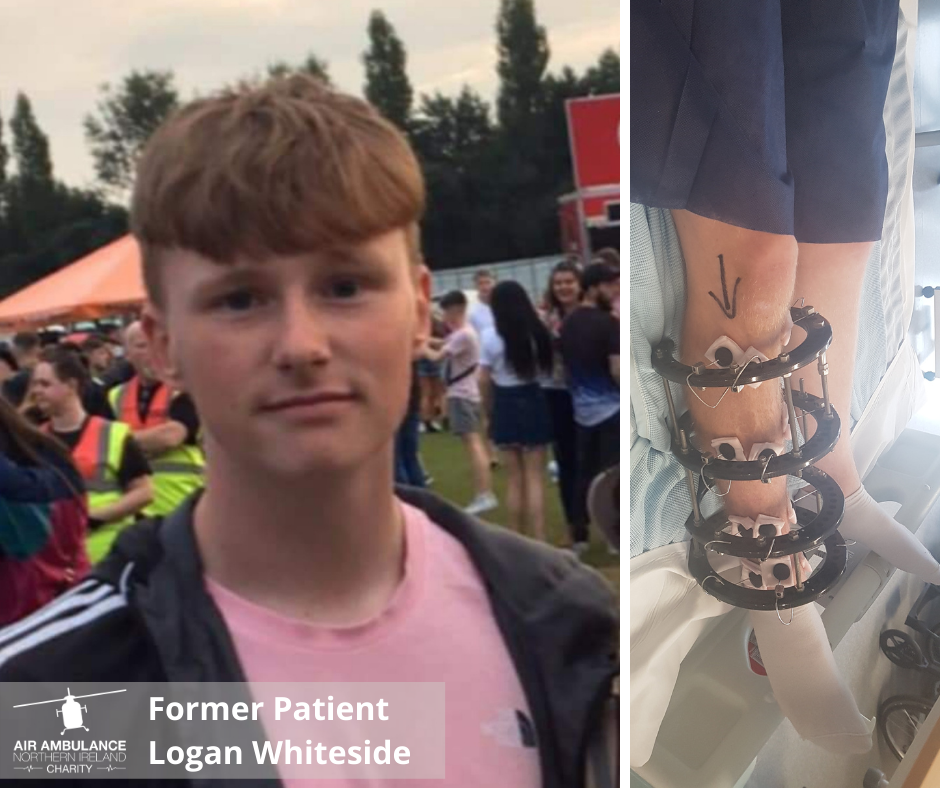 Two years on, Logan has made a fantastic recovery and his leg has healed remarkably well. Shortly after his cage was removed in March 2019, Logan returned to normal life, and was able to attend a concert. Logan stills plays football with his friends and has also found a new love for skateboarding! 
Logan's mum Tina said 'I would like to thank the Air Ambulance team that were there that day. They helped calm the situation and made Logan feel a lot more comfortable than he was before they arrived.  The road to recovery has been a long process but his consultant and the physiotherapy team in Musgrave park hospital are amazing people and he wouldn't have got through it without them.  Air Ambulance is a great service and the team do an amazing job!' 
Glenn O'Rorke, Operational Lead for the Air Ambulance NI service said, "Logan's recovery is testament to how the work of the HEMS team and the hospital teams contribute to a good recovery and positive patient outcome.  With a serious fracture of the leg, swift realignment is necessary to ensure blood flow is maintained and the limb can be saved." 
Glenn added, "We have been asked why the HEMS team would be needed in Belfast given travel times to surrounding hospitals, yet the service responds to incidents based on critical nature of injury and where our skills can make a difference.  Last year, call outs to the Belfast City Council area account for around a third of all missions.  We are really pleased that young Logan is doing well and has made such a great recovery and thank the public for your continued support which is never taken for granted by our team."