Just over two years ago, Lee-Anne and her husband Greg had everything to look forward to with their two young children, Dylan aged 4 and Jasmine aged almost 2. They were working on renovations to their new home in Lisburn, having returned to Northern Ireland from living in England.
But Lee-Anne's world changed forever on 26th February 2021. It was a Friday morning, and the family awoke for the day ahead. Greg complained of back pain and they had an appointment booked for the chiropractor for the following Monday. Lee-Anne got Greg sorted with some pain killers and he got back in to bed in an attempt to ease the pain whilst she bathed the children and got Dylan ready for school.
Lee-Anne recalls, "I heard Greg cry out and when I looked at him I could tell I was losing him and immediately rang 999. They talked me through doing CPR and were a fantastic support at that time. It was such a surreal situation as I was aware of doing everything I could to save my husband and at the same time ensure the children were safe, out of sight and unalarmed."
The Helicopter Emergency Medical Service (HEMS) team arrived by rapid response vehicle given the close proximity and began working on Greg and he was then transported to the Royal Victoria Hospital in Belfast. The medical team at hospital were able to restart Greg's heart but sadly he died in hospital two days later.
Lee-Anne said, "The doctor at the hospital explained that Greg had received textbook care, and everything was done that could have been. It meant that we had no unanswered questions. It meant that we had a little time at hospital to prepare for Greg's passing and say goodbye. And, importantly, it meant three of Greg's organs were able to be donated. Recently I received a letter from one of the donors who received two of Greg's organs, saving his life with a kidney and pancreas transplant. The donor wanted to express his thanks and sympathies on my loss. It was wonderful to receive this, knowing that Greg and I had saved another family from going through the pain of losing a dad and a husband. It brings me a lot of comfort. "
A friend of Lee-Anne's explained that the HEMS service involves a charity, Air Ambulance NI.
Lee-Anne commented, "Once I knew part of Greg's care involved a charity I wanted to give back. But first of all, I had to deal with my grief and trauma. I had counselling to help with my grief and Cognitive Behavioural Therapy Support for the trauma I had experienced. This was very valuable, and I encourage anyone dealing with grief or trauma to access support if you can.
About a year and a half after Greg's death I was in the right place to think about giving something back to the charity Air Ambualnce NI. I wanted this to be a fundraiser fitting to remember Greg's life. I organised a fundraiser in Harlequins Rugby Club with over 150 attendees, complete with a raffle, auction and entertainment from Paddy Raff. It was a great night, and I am so pleased to have been able to handover almost £20,000 to the charity."
Paddy Raff added his thoughts, "It was a pleasure to be involved in the event to remember Greg. Everyone was in top form and it was one of my favourite gigs of the year. It was great to see so much money being raised and people coming together in such a positive way, all with a really amazing charity at the centre of it all too."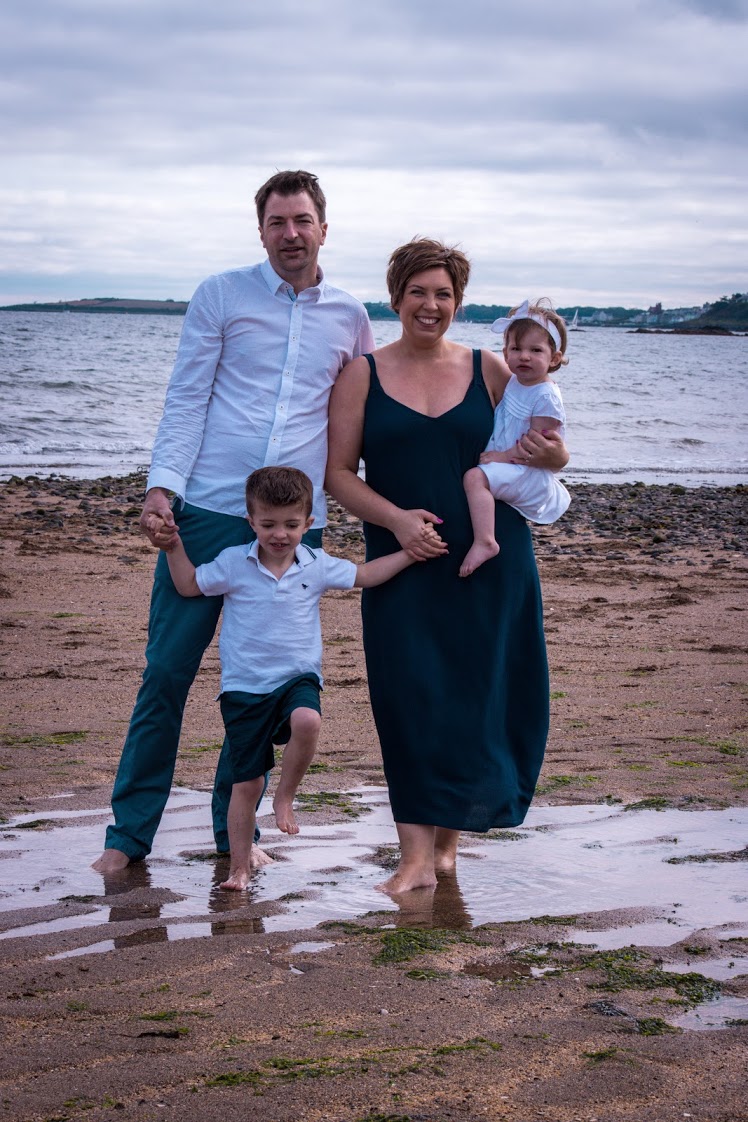 Kerry Anderson, Head of Fundraising from the charity said, "Lee-Anne's experience illustrates the reality that lives can change in an instant. The loss of Greg at such a young age is truly tragic and our thoughts are with her and the family. Lee-Anne's strength of character is amazing, and we are humbled that she has been able to think of the service and donate this considerable sum that will go a long way in helping many future families who need the service of the HEMS team. Thank you Lee-Anne and thanks also to everyone who helped make your fundraiser such a huge success.
Lee-Anne finished by saying, "Knowing that the provision of air ambulance requires charitable input was a lightbulb moment for me and I'm passionate about raising awareness as much as possible. This is a crucial service that is there for each of us every day should the worst happen. I encourage everyone to remember and support their air ambulance."
Air Ambulance NI is a local charity that provides the Helicopter Emergency Medical Service (HEMS) in partnership with Northern Ireland Ambulance Service. The service brings urgent medical assistance to anywhere in the province, operating seven days a week for 12 hours per day. The HEMS team attend patients who are seriously ill or injured, bringing emergency pre-hospital care direct to the casualty with the aim of saving lives, brains and limbs. The aircraft can reach anywhere in Northern Ireland in approximately twenty-five minutes.
On average the medical team are called upon twice every day, whether that is as a result of a serious road traffic collision, farm or workplace accident, sport and leisure incident or a serious medical emergency. As a local charity, Air Ambulance NI aspires to raise £2.5million each year to maintain and sustain this service so public donations are crucial. One of the simplest ways to support is by becoming a member of Club AANI and donating via a monthly or annual subscription. Find out more by clicking here alternatively, you can contact the charity directly by emailing info@airambulanceni.org or calling 028 9262 2677