Mary Gallagher, Lady Captain of Kirkistown Castle Golf Club, held her annual Lady Captain's day on Friday 19th May, choosing Air Ambulance NI as the beneficiary for this event and one of the charities she would be supporting throughout her captaincy year.
The event was a huge success, raising a staggering £4,620 for Air Ambulance NI, which will help save the lives of individuals who have been in a traumatic incident or extreme medical emergency. The charity, working with partners at the Northern Ireland Ambulance Service exists to ensure the Helicopter Emergency Medical Service is there for those who need it and currently it is needed on average twice per day.
Mary Gallagher was recently welcomed to the Air Ambulance NI base to hand over this incredible donation to Area Fundraising Manager at the charity, Grace Williams.
Area Fundraising Manager at the charity, Grace said, "We are so grateful to Mary, the team at the golf club and everyone who participated in the event for their wonderful support.
It was so great to be able to thank Mary in person for her incredible fundraising efforts. The funds raised will help the medical team lift off by helicopter to reach future patients, wherever that may be in Northern Ireland. This is very much a service that no one wishes to need but is there for every one of us.
As a service we rely heavily on charitable donations to keep the medical team in the air, delivering critical care to patients who have suffered trauma throughout Northern Ireland – without this type of support, the team simply couldn't fly.  Every single penny counts. We want to say a huge thank you  to Mary, Kirkistown Castle Golf Club and everyone who participated in this event for this amazing support."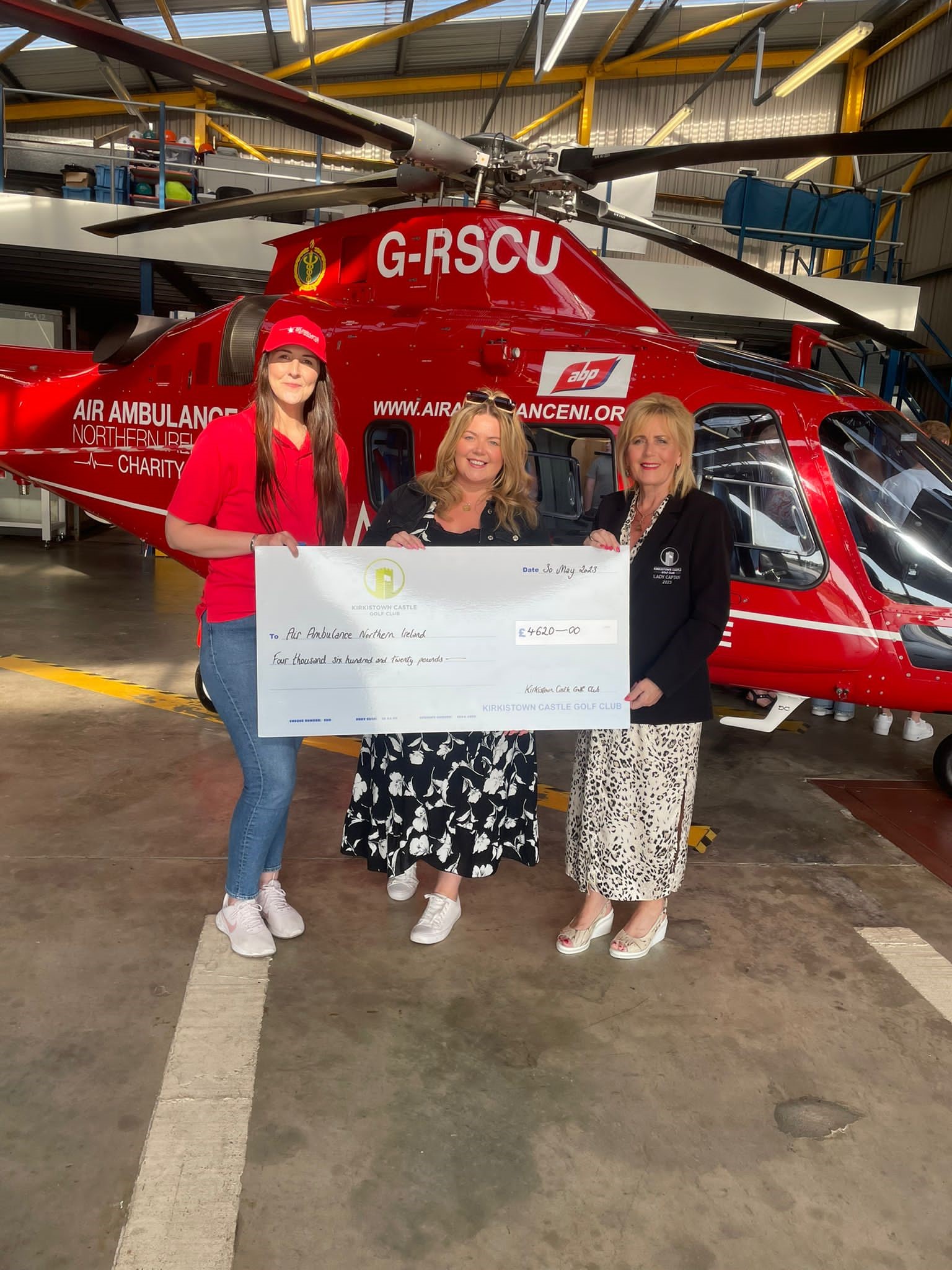 The charity Air Ambulance Northern Ireland, in partnership with the Northern Ireland Ambulance Service, provides the Helicopter Emergency Medical Service for Northern Ireland. The service brings urgent medical assistance to anywhere in the province, operating seven days a week for 12 hours per day. It can get to anywhere in Northern Ireland in approximately twenty-five minutes. From inception to the medical crew have been tasked 3,434 times.
The HEMS team attend patients who are seriously ill or injured, bringing emergency pre-hospital care direct to the casualty with the aim of saving lives, brains and limbs. The charity cherishes connecting with former patients and patient families. If you, or one of your family members, have been treated by the HEMS Crew please get in touch with Air Ambulance NI by calling 028 9262 2677.
Air Ambulance NI aspires to raise £2.5million each year to maintain and sustain this service, so public donations are crucial. You can contact us directly by emailing info@airambulanceni.org or calling 028 9262 2677.