Hutchinson Engineering, founded in 1971 by Creighton Hutchinson, have supported Air Ambulance NI (AANI) during 2020, donating £10,000 which will greatly support the work across Northern Ireland delivering pre-hospital care to those in need.
In January 2020 Hutching Employees nominated AANI as their charity partner, and the charity team were delighted to host Mark Hutchinson, Managing Director, and a group of employees at the operational base in February 2020 (Insert picture).  This was a great opportunity to showcase the service, indeed with the engineering background the team were extremely interested in the mechanics and components of the helicopter.
Mark Hutchinson, Managing Director, Hutchinson Engineering commented 'Hutchinson Engineering is delighted to announce the final total raised for Air Ambulance NI, our charity partner in 2020 in what has been an extremely challenging year for everyone, including charities such as AANI.    The Air Ambulance is making an amazing difference across Northern Ireland, we know how vital it is not just for a rural manufacturing company like ourselves, but for our employees and their families.  As well as funding we were delighted to supply two HanSan 1000, hand sanitising units, to Air Ambulance NI for use at their base.  These two units assist the charity staff in complying with Covid19 regulations".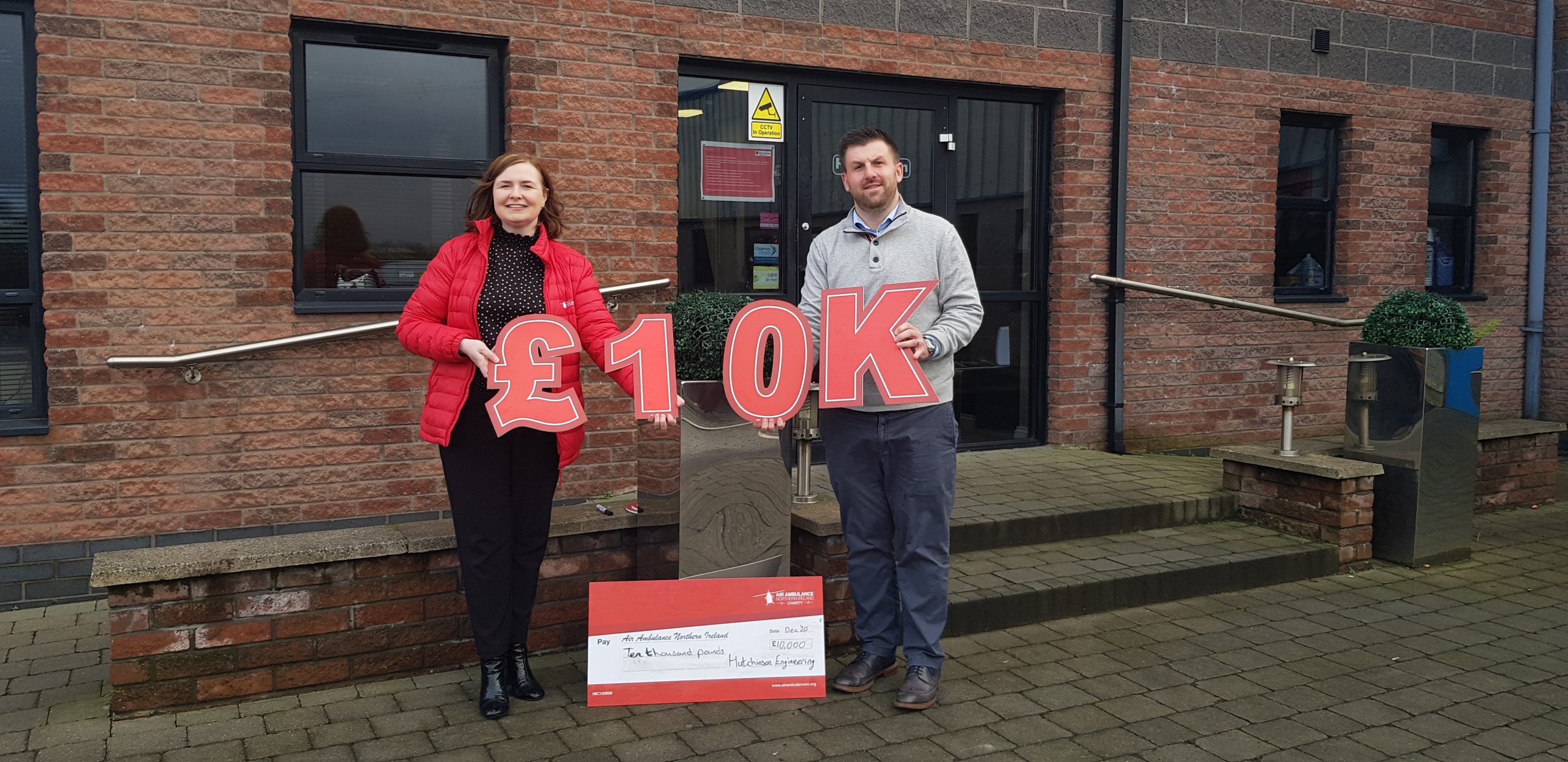 Kerry Anderson, AANI's Head of Fundraising, said: "We are very grateful to all at Hutchinson Engineering for their support.  Despite us all spending more time at home in 2020, serious accidents have continued with the HEMS team being needed more than ever – at least once or twice per day.  That could be a road traffic collision, agriculture accident, trauma accident at home or whilst playing sport.  The HEMS team have also attended many workplace and industrial accidents, accounting for 14% of incidents, which for many businesses is important, particularly those whose employees are working at risk.  When the worst happens, the doctor, paramedic and pilot are at base and will reach the patient in a matter of minutes, bringing the hospital direct to them, which can be the difference between life and death.  To ensure the service can be sustained and developed now and for the future we rely on support from all sectors and partnerships with the corporate sector are crucial.  We are dedicated to creating mutually beneficial partnerships that can help your corporate goals as much as ours."
The charity Air Ambulance Northern Ireland, in partnership with the Northern Ireland Ambulance Service, provides the Helicopter Emergency Medical Service for Northern Ireland.  The service brings urgent medical assistance to anywhere in the province, operating seven days a week for 12 hours per day. It can get to anywhere in Northern Ireland in approximately twenty-five minutes. Effectively the service brings prehospital emergency care direct to the casualty. Since the first deployment in July 2017 AANI has been tasked to attend 1881 incidents. The charity needs to raise £5,500 per day, £2million each year.
If your company would like to discuss the various ways to get involved with the charity including sponsorship, charity of the year partnerships, payroll giving or an event, please call the office on 028 9262 2677 or email Kerry.anderson@airambulanceni.org.