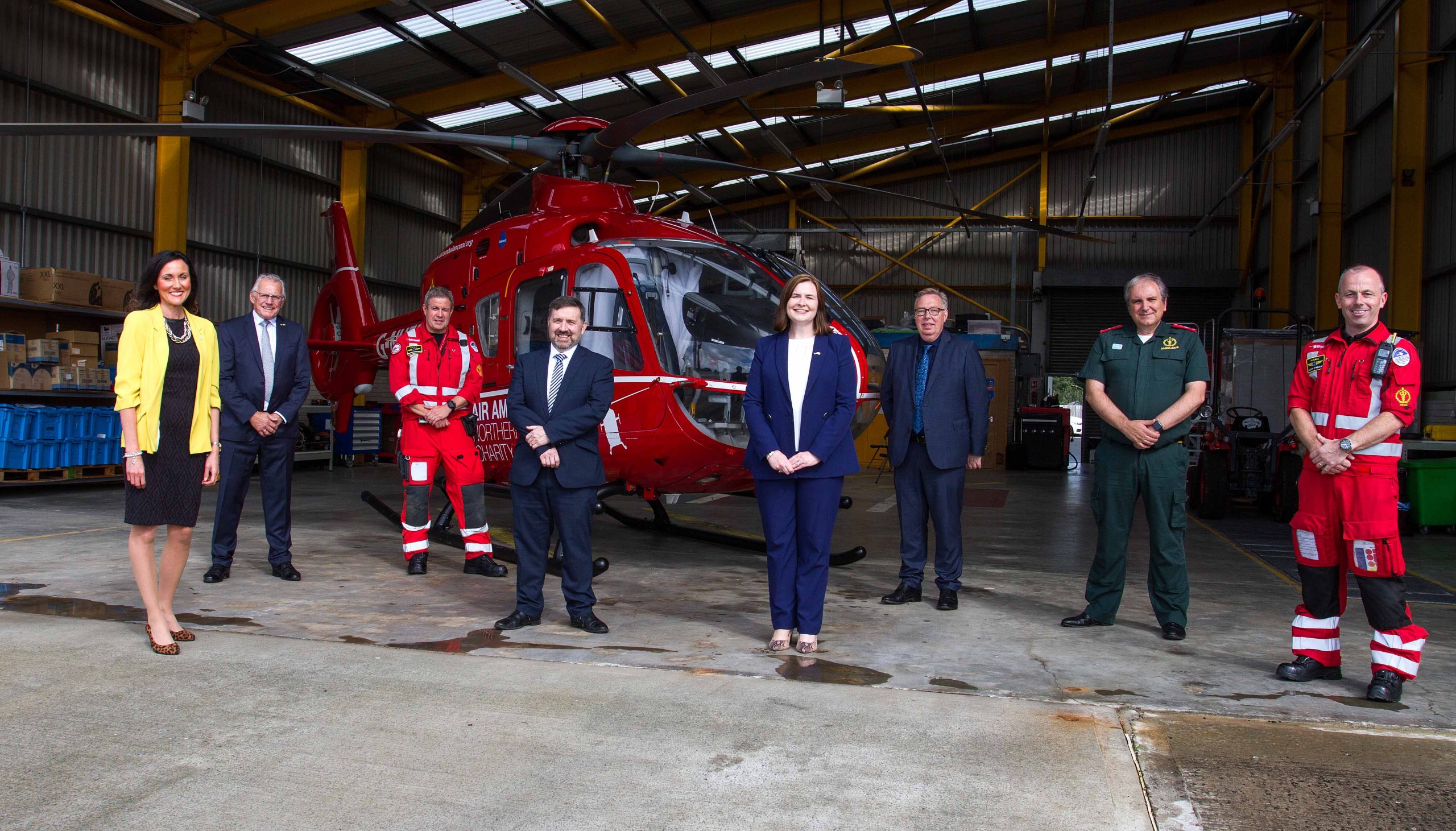 The Health Minister Robin Swann has today toured the Air Ambulance NI operational base and met some of the Helicopter Emergency Medical Service (HEMS) team that are called out on average one or two occasions every day to seriously ill and injured patients.
The HEMS duty team outlined the critical care interventions that are performed at scene to help save lives, brains and limb, including pre-hospital blood transfusions, pre-hospital surgery and pre-hospital anaesthesia.
The Minister also learnt about a typical day and how the team responds when a call is received.  Glenn O'Rorke, Operational Lead for the service explained, "A typical day starts at around 6.30am by bringing the helicopter out from the hanger onto the landing pad.  If the team is not immediately tasked to an incident, a 'briefing' is lead by the Duty Pilot to take account of any impact on flying including weather, other aviation activity and calculation of weight on board the aircraft."
Minister Swann said, The HEMS is a critical and essential part of our pre-hospital care and it is reassuring to know that it is there for all of us and able to be airborne within minutes of a call coming in. Since coming into operation three years ago the team has responded to over 1,600 call outs and I am very aware that behind each of these call outs is an individual and family. Like all our frontline services, Covid-19 has presented innumerable challenges over the past number of months but despite this the HEMS service is available and has seen no decrease in tasking figures. I would like to acknowledge and express my appreciation for all that HEMS team do."
Air Ambulance NI is the local charity which, in partnership with the Northern Ireland Ambulance Service, provides the Helicopter Emergency Medical Service for Northern Ireland. The service brings urgent medical assistance to anywhere in the province, operating seven days a week for 12 hours per day. It can get to anywhere in Northern Ireland in approximately twenty-five minutes.  This Helicopter Emergency Medical Service benefits those whose lives are at serious risk following significant injury or trauma.
Air Ambulance NI needs to raise £2million each year to maintain this service and fundraising has been impacted severely by COVID-19.  For more information and to support, please visit www.airambulanceni.org