Go Off to Lift Off
Over the month of January, we are encouraging you to 'go off' something that will benefit you and Air Ambulance NI! Whether you choose to go off alcohol, sweet treats, fizzy drinks, take-aways, meat, dairy or swear words, to name a few – by donating a little and asking your family, friends and loved ones to sponsor your efforts, you'll help Air Ambulance lift off for another day!  And we'll support you along the way with tips of encouragement and patient stories of impact, to motivate you through the weeks.
We all make goals and resolutions at the start of a new year so why not give it a go and help our helicopter 'lift off' for another day and respond to emergencies across the province.
What kind of things could I go off?
Chocolate or crisps

 

Alcohol 

or fizzy drinks

 

Smoking or vaping

 

Social media

or reducing your 'screen time'

'No exercise' excuses

 

Netflix binging

 

Swearing

Meat or dairy
Choose your own!
Why Take Part?
Have more energy

 

Improve your mental health

 

Reduce 

your 

calorie intake

 

Better mood

. 

 

Reset bad habits that have built up over 2020

 

Support our life-saving service!

 
It's Simple!
When the New Year celebrations are finished, tell your family, friends and work colleagues that your taking part in the 'Go Off to Lift Off' challenge over the month of January for Air Ambulance NI – making it public will help your commitment!
Set up a JustGiving Page by clicking here.
Send your personal Just Giving link to your network far and wide
As well as sponsorship, you can donate the money that you would have spent on your habits such as cigarettes, chocolate/crisps or alcohol.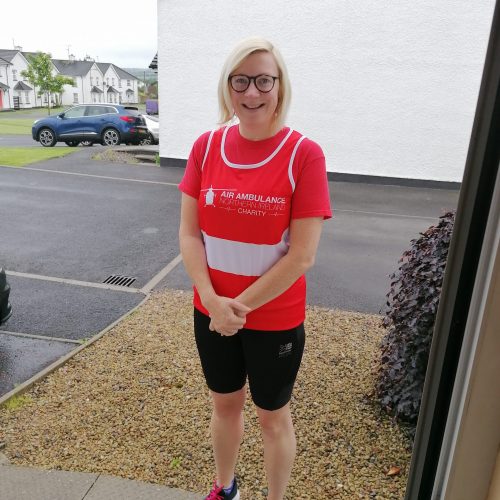 Marcella from Castlederg, Co Tyrone previously gave up alcohol & ran 3miles per day for Air Ambulance NI.
Castlederg teacher Marcella Robinson raised over £2,500 for Air Ambulance NI by combing her alcohol free challenge with a 3 mile run a day in June 2020.
Marcella, decided to take on the challenge during the Covid-19 lockdown period as a way of maintaining a routine to her days working from home as well as raising funds for charity.
Marcella said:
"You feel reenergised and empowered, however, the weekends are a little quieter of course!! But when you start seeing the pounds coming in for your chosen charity, you very quickly get over your own desire to have a wee glass of wine"
Register Now
Let us know, you're taking part in the Go Off to Lift Off for Challenge for Air Ambulance NI by filling in the simple contact form below.
Download your free Fundraising Pack
Click on link below to download your free fundraising pack to get started. In your pack you'll find advice on setting up your own Just Giving page as well as printable sponsorship forms.
Go Off to Lift Off Fundraising Pack
---
Download your first digital badge
Save the image below and use on social media channels such as Facebook, Instagram or Whatsapp to highlight your personal health and fundraising campaign to family, friends and followers!