The Rotary Club of Coleraine, in partnership with the Spin Club in Coleraine, organised a 12-hour spin challenge in aid of Air Ambulance Northern Ireland on 12 December 2020 from midday to midnight and have raised an incredible £13,000.
The event was hosted by the Spin Club and involved each of the participants spinning for 12 hours with only short comfort and refreshment breaks.
Competitor, Tracy said, "Our event was actually put back on two occasions which was difficult to keep up the intensive training for that length of time! When it actually came around in December 2020 we were so pleased it was actually happening and that we were able to comply with government guidelines with some of us taking part from home.  There were certainly really tough moments through those 12 hours, but we kept each other going and we had been so well supported by the local community and that helped spur us on.  I've been so inspired by the work of the air ambulance that I've since joined as a volunteer and am currently training to be a community ambassador."
Graeme Strachan, President of the Rotary Club of Coleraine, added, "We have been overwhelmed by the support for this crucial life-saving charity."
Kerry Anderson from Air Ambulance NI said, "2020 was such a tough year with so many events cancelled.  The Coleraine spin queens were not to be put off and their determination along with the fantastic support of the Coleraine Rotary is to be commended.  We were really inspired that each of the participants were spinning for 12 hours straight!  It was a first of its kind for Air Ambulance NI.  This fundraiser has certainly passed all expectations and to have fully funded over two days of service is a wonderful achievement.  We would like to thank everyone involved. Your support means our medical team are there for the next patients who need then, wherever and when that may be. The reality is that Air Ambulance NI needs continued public support to continue the critical pre- hospital care provided at scene every day.  It's a charity that is here for you and your family, with your continued support."
Air Ambulance NI is the local charity that provides the Helicopter Emergency Medical Service for Northern Ireland, together with its partners at the Northern Ireland Ambulance Service. The service brings urgent medical assistance to anywhere in the province, operating seven days a week for 12 hours per day. It can get to anywhere in Northern Ireland in approximately twenty-five minutes.  This Helicopter Emergency Medical Service benefits those whose lives are at serious risk following significant injury or trauma.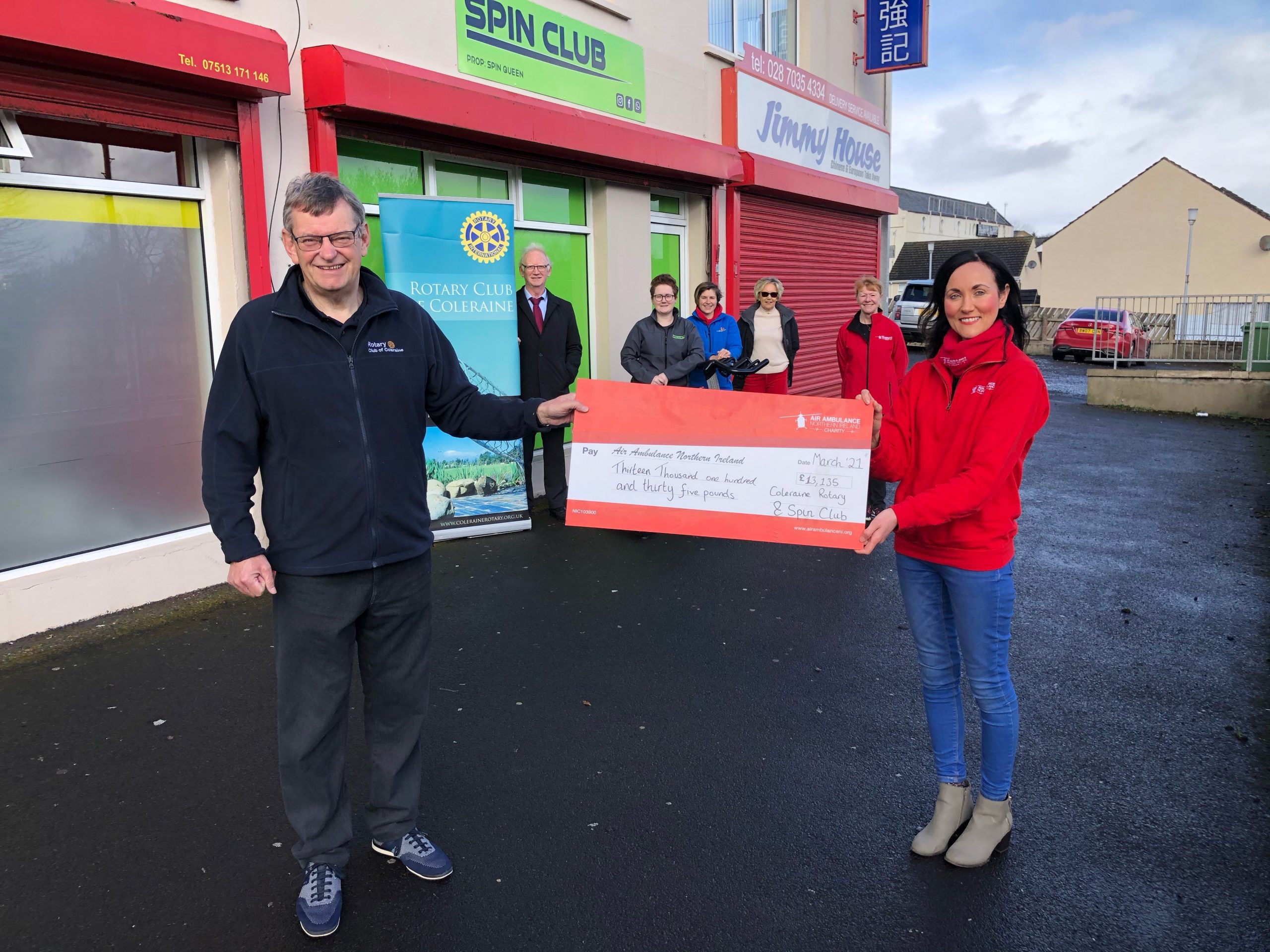 Graeme Strachan, President of the Rotary Club of Coleraine presenting Kerry Anderson from Air Ambulance NI with a cheque for £13,135, keeping the air ambulance flying for over two days.