24 year old, Leah Jackson from Newtownards has decided to run in the Belfast City Marathon in aid of Air Ambulance Northern Ireland, after her close friend required the expertise of the Helicopter Emergency Medical Service (HEMS) in Summer 2021.
Leah is a full time student studying paediatric nursing at Queens University in Belfast. When she's not studying or on placement, she works for both the South Eastern Trust as a Healthcare Assistant and for a Private Ambulance Company, Proparamedics.
Speaking about her reasons for supporting the charity, Leah said:
"I decided to run the marathon for the Air Ambulance as I have always admired their work and thought it was so important for Northern Ireland to have access to this amazing resource. I care for and compete horses which is a very dangerous sport and I am so grateful to know that if anything were to happen I would be able to rely on both the air ambulance and their colleagues in NIAS to attend and provide life saving treatment and prompt transport to hospital."
"However, my main reason is that during the summer or 2021 a very close friend had a fall whilst on holiday. The Air Ambulance were on scene and brought her to the Royal Victoria Hospital for life saving surgery within 20 minutes which was incredible."
Despite challenging herself to complete the 26.2 miles, Leah admits that running hasn't always come naturally to her.
"Running has always been a challenge for me so to do a marathon is going to be extremely tough! When I applied in November I was only just finishing the Couch to 5k training plan! So many friends and family are getting behind me and donating which is just incredible and I am so grateful."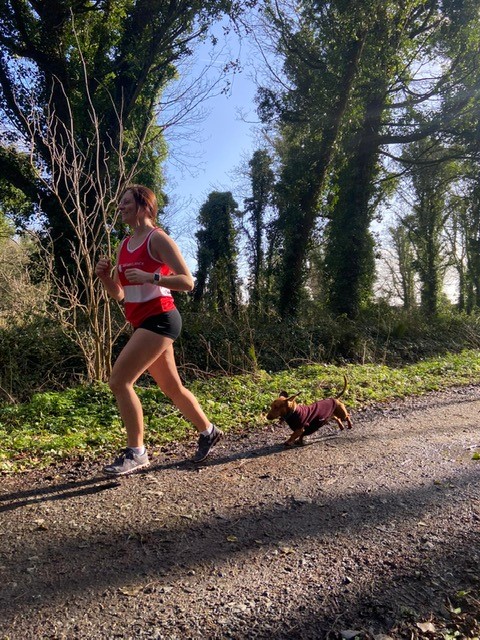 Completing the marathon isn't the only goal Leah has set her sights on. She has set a fundraising target for herself to raise £5,500 which is how much it costs to run the life-saving service every single day.
In order to prepare for the marathon, Leah is following a training plan with increasing miles each week which she fits around her studying, work, horses and busy personal life. Although it's still a challenge, Leah has begun to enjoy the tranquillity running provides her with and is encouraging more people to join in and run for Air Ambulance NI.
"I have started to love the peace, running along the coast whilst listening to music and I am incredibly excited for the big day! Anyone reading this who are on the edge about joining team AANI on the 1st of May for the Marathon please go for it! Every donation is incredible and it will be such a great day and achievement."
You can support Leah and help her reach her fundraising goal, by donating at: https://www.justgiving.com/fundraising/leah-jackson7 If you would like to join Leah in completing one the marathon events, you can register here: https://belfastcitymarathon.com/