Housing association Choice Housing has marked the end of their voluntary partnership with local charities Air Ambulance and Cancer Fund for Children with an amazing £8K fundraising total. Choice announced their partnership with the charities in 2022 and will split the total amount between the two organisations.
Each year, Choice staff nominate two local charities to support for one year, with the Fundraising Committee organising a busy calendar of events aimed at raising much-needed funds and involving staff teams in a range of initiatives.
Julie Dineen, Chair of Choice Fundraising Committee, said,
"With the ongoing cost of living crisis and the impact of the pandemic, local charities are struggling to maintain a range of their vital support services, relying more on fundraising efforts from individuals and businesses to help them sustain their support provision.
"We also recognise that families and individuals are equally struggling with the cost of living and there is less disposable income available that would normally go to things like donations to charities that are important to them.
"Our Fundraising Committee looked to organise engaging events and initiatives that encouraged donations whilst also creating experiences. Partnerships with charities is an important element of Choices' commitment to supporting local communities across Northern Ireland."
The charity Air Ambulance Northern Ireland, in partnership with the Northern Ireland Ambulance Service, provides the Helicopter Emergency Medical Service (HEMS) for Northern Ireland. The service brings urgent medical assistance to anywhere in the province, operating seven days a week for 12 hours per day. It can get to anywhere in Northern Ireland in approximately twenty-five minutes and since its inception in July 2017, the medical crew have been tasked 3,434 times.
The HEMS team attend patients who are seriously ill or injured, bringing emergency pre-hospital care direct to the casualty with the aim of saving lives, brains, and limbs. Air Ambulance NI aspires to raise £2.5 million each year to maintain and sustain this service and therefore public donations are crucial.
Grace Williams from Air Ambulance added,
"We are so grateful to the team at Choice for their incredible support throughout 2022. A lot of hard work and effort has gone into all of their fundraising, and we are so touched they chose to support us in this way.
"The funds raised will help the medical team lift off by helicopter to reach future patients, wherever that may be in Northern Ireland. This is very much a service that no one wishes to need but is there for every one of us.
"As a service we rely heavily on charitable donations to keep the medical team in the air, delivering critical care to patients who have suffered trauma throughout Northern Ireland – without this type of support, the team simply couldn't fly. Every single penny counts."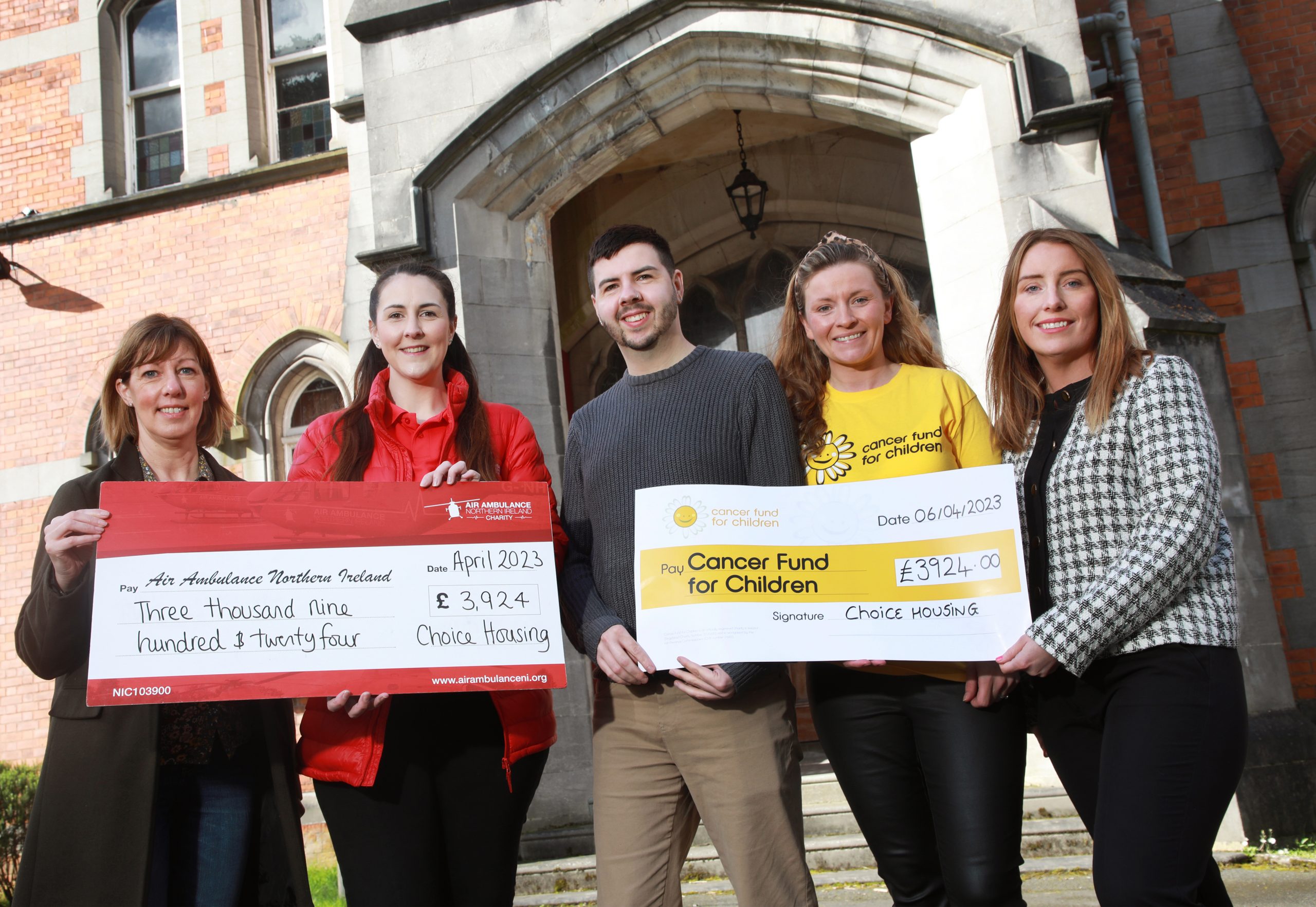 Cancer Fund for Children works to empower, connect, and strengthen children, young people and families impacted by cancer. They offer informal emotional, social, and therapeutic support in the home, on the hospital ward, and at Daisy Lodge – its therapeutic short break centre. Cancer Fund for Children supports over 1500 young people and 500 families every year.
Commenting on the fundraising effort from Choice, Jordana Stoney-Wilson from the charity said,
"Throughout the partnership, the team at Choice have gone above and beyond for Cancer Fund for Children. Thank you so much to all the team for their support in helping us ensure no child has to face cancer alone."
Examples of some of the activity undertaken include raffles, pound for pound challenge, marathon relay teams, walk to work, cold water dips and a sunrise climb at Divis Mountain. Throughout the year, staff donate £2 per month in non-uniform money, raising over £2000.