On the 10th of July 2020 Hollie Anne Strahan was setting up for her son Joey's 2nd birthday party at their home in Ballymoney. Hollie Anne's partner Gerald was with Joey on the bouncy castle before his friends and family were due to arrive for the celebration. Unfortunately, Joey landed awkwardly and severely hurt his leg, ending the toddler's birthday party before it had even begun.
The air ambulance with Helicopter Emergency Medical Service (HEMS) team quickly arrived at the scene, landing in the field beside the house. Joey had broken both the fibula and tibia bones in his leg, which was causing him extreme pain. The medical crew treated Joey with pain relief before transporting him to hospital for further care. Joey was airlifted to the Royal Belfast Hospital for Sick Children where his leg was put into a plaster cast and Joey was kept overnight.
After spending just one night in hospital and 5 weeks with his leg in a cast, Joey was back to walking on both feet. The family were elated with Joey's speedy recovery and very thankful to HEMS and the medics in hospital for the care they provided to their young boy.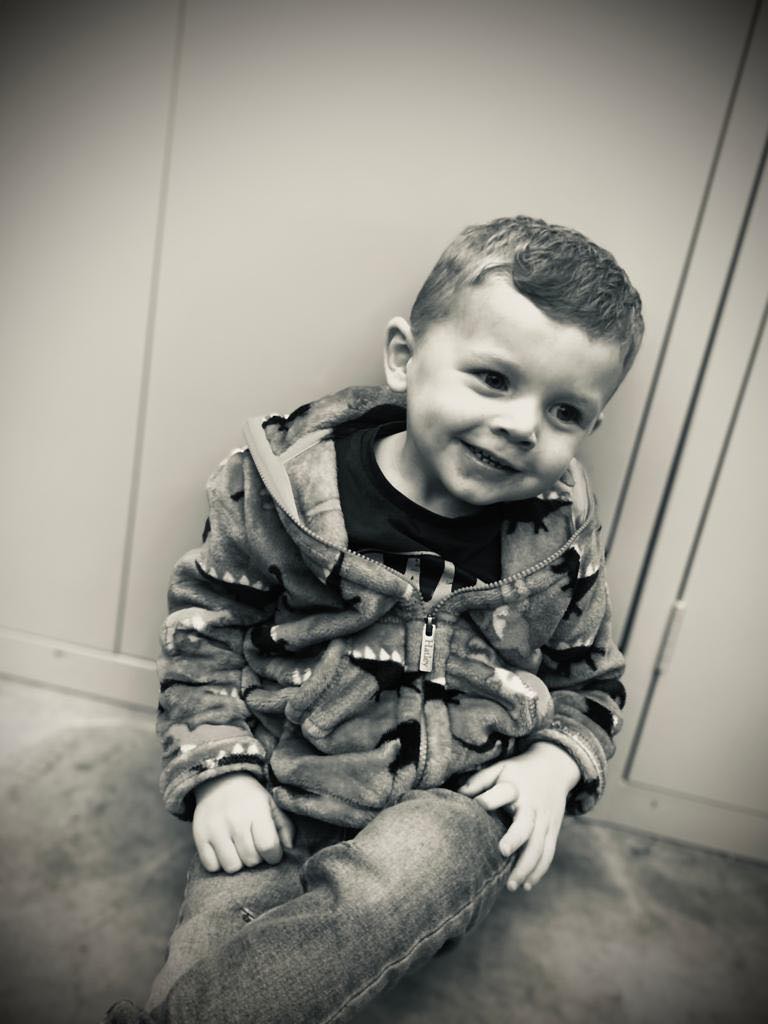 Joey's mum Hollie Anne said, "It was a worrying day and awful to see Joey in so much pain. Thankfully the team were brilliant, and it calmed us all down when the air ambulance team gave Joey the pain relief he needed."
To show their gratitude, the family have been helping Air Ambulance Northern Ireland raise vital funds to keep the helicopter flying to people like Joey when they need emergency pre-hospital care. Hollie Anne has placed a collection box in the Turkish Barbers on Charles Street in Ballymoney where she works to help fundraise with the help of the local community.
Joey's Grandfather Nicholas has joined the charity's membership programme called Club AANI. Members donate a little amount each month to Air Ambulance NI.
Nicholas said, "The team do a great job and having their speedy response and care for Joey inspired me to join. I give £8 per month, a manageable amount but together with other members donations we are funding two days of the service every month. That feels really good to be part of the journey and in a team helping to save lives."
Kerry Anderson, Head of Fundraising at Air Ambulance NI said: "It was such a pleasure to meet Joey and his family. To see a young boy, recover so well and be back to running and jumping around is fantastic. We are so grateful to the Strachan family for their support. With a fundraising need of £5,500 each day, donations are crucial to keep the helicopter in the air. We're delighted that Nicholas has joined Club AANI, it's one of the simplest ways to support our charity and helps us predict regular income. We have approximately 1500 members, all who receive a car sticker and gold pin badge. We keep in touch with our members through a monthly email and annual summer get together. Most members donate monthly, and some prefer an annual subscription. However, our members choose to donate, they all help the medical crew to save lives, brains and limbs."
You can find out more about Club AANI by clicking here.