Air Ambulance NI is calling on the people of Ballymena to get active and take part in the 8-Mile Walk or Team Relay of the Mash Direct Belfast City Marathon.
Kerry Anderson from the charity said, "This is one of the biggest sporting events for 2023 but we realise a full marathon distance isn't for everyone. You don't need to take on 26.2 miles to be part of this wonderful event. There is the 8-Mile Walk and Team Relay which has distances from 4.2 miles to about 7 miles. So don the trainers and sign up now at www.belfastcitymarathon.com"
Already there are almost 20 people from the Ballymena area who have signed up to take part across the Mash Direct Belfast City Marathon events.
Oonagh Chesney, from Portglenone has signed up with her husband and some of the family, for the second year. "I took part in the 8 mile walk with my husband and two other farming families in 2022. It's wonderful to be able to participate in a marathon event without having to take on the full distance which just wouldn't have been manageable for us. Training was easily managed with free walks around our rural locality and allowed the opportunity to have time together as a family. On the day we enjoyed traveling to the city on the train, great camaraderie and atmosphere at the event as we walked, and a beautiful lunch afterwards."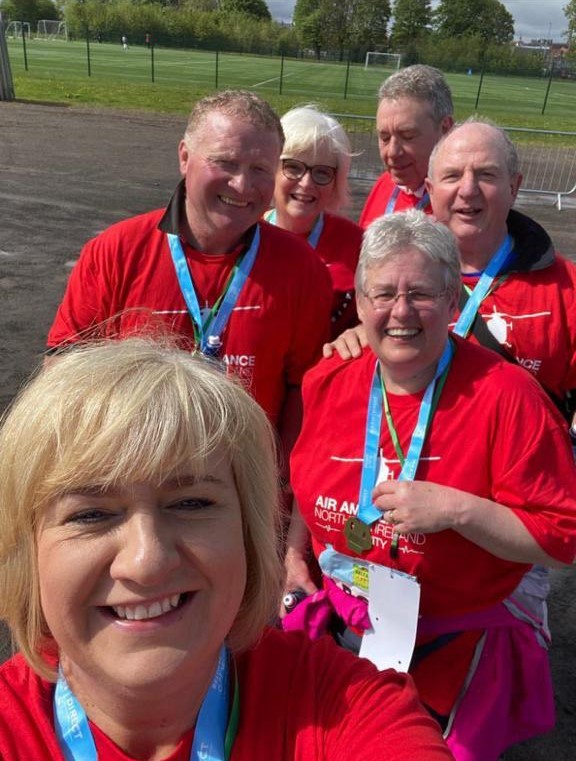 Ashlene Alexander and Lynsey Hampton from Ballymena are also taking on the walk and were invited to visit the airbase last weekend to see firsthand the service they are supporting. Ashlene and Lynsey said: "We were both keen to get back out walking after the Christmas period and having the opportunity to raise money for Air Ambulance was a great motivating factor for us.
"We have seen the Air Ambulance when it has been tasked to incidents around Ballymena and having had the opportunity to visit the organisations headquarters and see at first hand the work that goes on there, we now appreciate more than ever how vital fund-raising is to the charity."
Kerry Anderson, added, "When you register online you'll be asked if you'd like to support Air Ambulance NI. Please tick the box and we will be in touch with your digital fundraising pack and invite to the airbase. Funds raised will help people in your community for whom the worst has happened. Every day the medical team are needed on average twice per day."
You can register now for the 8-Mile Walk, Team Relay, Half Marathon and Full Marathon at https://belfastcitymarathon.com/
Further information is also available at www.airambulanceni.org/upcoming-events/belfast-city-marathon/, by calling us on 028 9262 2677 or emailing belfastmarathon@airambulanceni.org